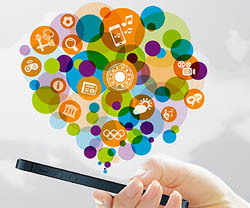 Who out there remembers life before mobile phones? And more pertinently who remembers life before smartphones? Perhaps a better question to ask here would be 'who out there doesn't have a smartphone'? This is how much of an integral facet of our very existence they have become. Mobile and smartphones seem to have been with us for an age but in fact smartphones as we now know them have only been with us a little over a decade. Smartphones were around before this but it wasn't until around then that they really became part of our lives. To put it into context, the iPhone first appeared in 2007. It seems unthinkable that just a short time ago whenever we came across a question or a conundrum we weren't all frantically reaching for our smartphone to provide the answers!
Take a moment to ponder a thought; what it is you use your smartphone for? Maybe you use if for social media, sending tweets, posting pictures on Instagram or some other form of social media? Perhaps you use it to shop online, book tickets, reserve restaurants or read reviews on your next planned purchase. Maybe it is simply to keep up to date with the latest news that is of interest to you, maybe you just listen to music while you walk. Whatever the use, smartphones have become a huge part of our lives, and, with it, the content we consume on them has to be mobile friendly.
The power of the internet is now in most people hands, pockets and hand bags; mobile phone culture is now a fully accepted part of society. This seismic shift in communication and online availability demands that a different approach should be examined and if necessary, pivots performed when it comes to you're the content you supply and the methods you utilize to do so. With the advent of wireless broadband within our homes, our habits concerning mobile are changing there too, I think it would be a fair assumption to say that many a TV show vote has been cast from a couch on quite a few Saturday nights!
The rapid rise of the smartphone
Mobile marketing and more specifically, marketing opportunities through smartphone usage has risen exponentially in recent years. Surveys have shown that there are now over six billion cell phone users worldwide, and of this six billion, over one billion are smartphone users, to put this into context, there are seven billion people in the world, so that's one in seven of us use a smartphone on a regular basis. Quite an impressive number I think you will agree.
Research has shown that to reach this remarkable figure of smartphone users took sixteen years, estimations also state; to reach two billion smartphone users it will only take another three years. This gives us an idea of the rapid rise of smartphones and the trend is showing no signs of slowing down.
Many of us now use our smartphones to browse the web daily; the 2012 Channel Preference Study by Mobile Marketing Magazine found that over half of consumers use their mobiles to check e-mails throughout the day, while 29 per cent checked their e-mail constantly throughout the day. This represents a huge market base that, in order to stay afloat and be successful, it is essential that your business caters for.
It is estimated that by the end of 2012 there was 2.1 billion mobile web active mobile-broadband subscriptions in the world. That is 29.5 percent of the global population accessing the web from their mobile phones. It is estimated by 2014 mobile internet should take over desktop internet usage. Couple this with an average increase of 40% per year for mobile broadband subscriptions over the last three years and you start to get a clearer picture of the behemoth in our midst.
Mobile content – how mobile is yours?
With 40% of web traffic now coming from mobile devices, your content must also be responsive, it must be able to be automatically lay out to suit the resolution of the device that the audience choose to consume the content on. Platforms such as 3D Issue Hubs supply such a responsive resolution for your marketing content to be viewed across any platform.
The online platform has opened up doors and opportunities that would have previously been unthinkable, our reach has grown immeasurably, today's world is a far cry from that of our ancestors. We live in changed and ever changing times, our world is infiltrated at every turn by digital influences, how many of us would go to a travel agent nowadays to book a flight? How many of us would make a purchase without first researching it online? The examples are infinite; the only limitations are within ourselves. This is not to say that the online world has replaced our own but I think it is important to point out just how much of an influence it has on our everyday lives.
In 2011, the overall spend on mobile advertising was $3.3 billion, by 2015 that figure is expected to skyrocket to $20.6 billion, another interesting figure is that over 71% of smartphone users that see a press, TV or mobile advertisement will immediately do a search on their mobile. Another clear indication of where the market is heading.
The evolving continues
In keeping with these advancements in communications we have a fairly recent, some would say overdue development in how we can view websites from across the web. We, as a global population have gone mobile, smartphones haven't just moved the goalposts in terms of how we access the internet and the colossal amount of information and data it contains. They have ripped the goalposts from their foundations! 40% of your online traffic is now mobile, this is a market share that would be business suicide to ignore, businesses simply have to cater for this market. Many brands allude to this change in attitude and application by users and in reply are adopting a 'mobile first' approach. They ensure the content looks good and is fully accessible on mobile before scaling it up for tablet and desktop sizes. Mobile conversion rates have been shown to be making ground on desktop and tablet conversion rates and in some cases even surpassing them.
So with such a surge in smartphone usage, (it is now estimated that at least 50% of people who own a mobile phone have a smartphone and the figure is expected to continue to grow exponentially), publishers and websites have all had to pivot their approach due to this seismic shift in attitude and application. If a consumer is surfing the web and comes across your website and it isn't optimised for mobile or tablet use they will instantly move on to another site. The general rule of thumb is you have seven seconds to grab the consumer's attention; this will contract immeasurably if your site is not optimized for smartphones, tablets and any other device the consumer chooses to use to consume content. Recent studies have found that 67% of users claim they are more likely to purchase from a mobile-friendly website, companies that rely on SEO are wise, if they already haven't, to begin making the transition to mobile-friendly websites.
Content as we know it has evolved and will continue to evolve for some time yet, we are performing tasks and leisure activities through content on our smartphones that would have seemed like something from a science fiction only a short time ago. Content is the driving force behind anything we do, the better the content the more likely we will be to act upon it. The more accessible the content the more likely we will be to consume it, one goes hand in hand, (no pun intended!), with the other. The figures all indicate it, one look around you on a busy street will confirm it, the world is mobile, your content should be as well.