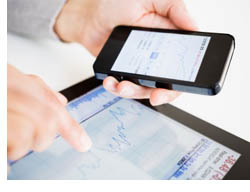 Google have been keeping busy, following on from their release of their new Hummingbird algorithm, they have launched an update with the latest version of Penguin, even though it is named Penguin 2.1, this is actually their fifth update to their anti-spam algorithm. First launched on April 24 2012 the algorithm has undergone a series of minor tweaks hence the decimal point rather than being named 'Penguin 5'.
The basis of the updates being the elimination of spam and 'black hat web spam' in SEO, i.e. companies that are littering their content with keywords and illicit link schemes in order to achieve higher Google rankings will be weeded out under the new system. These updates will also handle increasingly complex, longer search terms with more accuracy and, possibly more pertinently, it has the ability to deal with spoken search requests. These types of request are steadily increasing through the upsurge of smartphone usage for internet access. This only further enhances the fact that to keep pace with an ever evolving marketplace, your website has to be mobile accessible.
Only by doing so are you remaining relevant in the ever advancing algorithms within search engines, search engines which are the very lifeblood of nearly all companies. The internet is your marketplace and should be treated with the respect it deserves, you have to keep pace and if necessary pivot your approach to match that of the online world, as the saying goes, to stand still is to move backwards.
Google are keeping pace with the advancements in technology, they are constantly adjusting to suit the ever changing landscape, businesses would be wise to follow suit.
Mobile strategy is now essential to any online business
40% of your online traffic is mobile, this is a market share that would be business suicide to ignore, businesses simply have to cater for this market. Many brands allude to this change in attitude and application by users and in reply are adopting a 'mobile first' approach. They ensure the content looks good and is fully accessible on mobile before scaling it up for tablet and desktop sizes. Mobile conversion rates have been shown to be making ground on desktop and tablet conversion rates and in some cases even surpassing them.
A recent report by Morgan Stanley analysts has come to the conclusion that by 2015 there will be more web traffic created through mobile than desktops, it is essential that your content is mobile friendly. This shift in consumer behavior is inevitable, it is now time, if you haven't already, to get on board. Some would argue that you need to completely re-think you non-mobile centric marketing strategy, what cannot be debated is that the towering pillars of any marketing strategy are originality, relevance and quality. These factors are the essential cornerstones of any strategy. Only by embracing these values can you truly begin to reap the benefits that they undoubtedly hold.

Responsive web design – a helping hand in a changing world
It is beyond doubt that we are rapidly becoming a mobile world, we are accessing the internet's capabilities while on the move and as such, businesses have to ensure that their content can similarly be utilized through these channels, their content has to be responsive to whatever devices content is being consumed on. Responsive web design can aid you in your quest, flexible images; fluid grids will all contribute to making this transition as seamless as possible. It isn't always necessary to totally tear apart your site and the content it contains to achieve this. Platforms like 3D Issue Hub are perfectly positioned to transform your content in an ever transforming world of devices and methods to view content. Google will be searching for a network of supporting content pages to decipher the most pertinent results that relates to the users request.
Ensure your business and especially the content you provide is the first result prospective customers see when partaking in such searches.