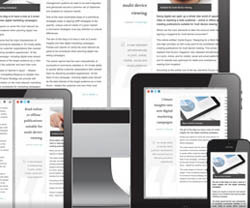 Smartphone and tablet use is on the rise in nearly every country in the world, we have rapidly ascended from the stage where a mobile phone was regarded as a 'luxury item' that few had in their possession, to it being a staple of everyday life where a high percentage of us not only own a phone but crucially, we own smartphones and the online accessibility that they provide.
It is estimated that by the end of 2012 there was 2.1 billion mobile web active mobile-broadband subscriptions in the world. That is 29.5 percent of the global population accessing the web from their mobile phones.
Couple this with an average increase of 40% per year for mobile broadband subscriptions over the last three years and you start to get a clearer picture of the behemoth in our midst.
Mobile content services have grown in tandem with the evolution of mobile phone usage for accessing the web; content curation has become an integral part of social media marketing. As covered in these blogs recently, sharing relevant and engaging content is a great tool for establishing relationships with consumers with the ultimate goal of satisfying customers thirst for knowledge, and in turn, sales that blossom into long standing consumer lifecycles.
Time is of the essence
There is no doubt that the volume of instantly accessible information we now have through the web is colossal, this doesn't mean we have to spend all our time searching for good quality content, that content can be controlled to come to us, gathered together in one place in an organised fashion.
Mobile content services such as Hubs provide such a service.
Hubs can be utilised by pointing it towards all your favourite information portals and their Rss feeds and letting Hubs do the rest. Instead of reading that newspaper over your coffee and eggs in the morning, you could be catching up with all the latest news from websites across the globe.
Mobile content services such as content curation should be an everyday occurrence, a 'breakfast ritual' in the same vein as the newspaper in times gone by, the idea is similar except that it is digital, it is mobile and it encompasses all the content you have chosen to digest and not what you are being told you should.
The critical part of this is the time and energy taken, the use of which should not exceed that of which is absolutely necessary, after all there are other important things that will require your attention throughout the day…..such as taking care of your business.
Most people want to be kept up to date with all things they have an interest in, both from a personal and professional aspect, but don't, (and can't) spend all day doing it. As mentioned in the previous paragraph, there are more important things to do throughout the day. This doesn't mean that content curation is not a valued tool, far from it; it is one of the most successful ways of promoting your brand and relevant information from your market sector that helps build relationships with consumers.
The role of Mobile content services
It is a crucial part of any companies marketing strategy to be 'mobile friendly', the figures available to us strongly suggest that if you are not easily accessible to potential consumers on mobile interfaces then you are seriously impeding any possible growth and reach that you could have.
Not only this, but you can be sure your competitors will have this ability and you risk being left behind if you are not up to speed. Platforms such as Hubs negate this worry for marketers and consumers alike, its use of HTML 5 ensures that whatever platform your consumer is using, your content will be accessible through Hubs ability to resize itself to suit any platform.
A crucial factor in surviving and succeeding in today's digital marketplace.