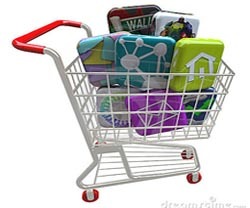 The world of technology is ever growing and developing; creating a mobile catalog app is a wise choice if you want your catalog to succeed in this digital era. Creating your own catalog app is cheap, simple to make and easy to maintain. Today's blog will investigate the importance of creating a mobile catalog app and how to include a shopping cart so your reader can shop to they drop. I will also discuss what technology you can use to achieve a professional outcome.
Just like everything in today's world e-publishing software advances in this digital age as magazines can now be made available online and across all mobile devices. Readers can access their favorite issues online via the browser and offline by downloading issues to their iPad, iPhone, Google tablet via the app stores such as Google Play and Apple App stores.
To get a competitive edge why not consider digitizing your publications and creating your own branded app? How can I do this?
It's easy, first you will need to have your PDFs in place, and if you have a print magazine you should have PDFs all ready to go. You can then download the digital magazine software "3D Issue." Next import your PDFs into the software, apply interactivity and upload your new digital catalog to your own website. It's as easy as that.
Converting your PDFs to digital flipping books allows you to add interactive content such as videos, weblinks, audio, photo gallery, shopping cart and much more. The medium allows you to reach realms you would never reach using only print editions.
With digital publications you can communicate and engage with your readers in a way you never could before. Give readers more information using pop up panels; get your readers feedback by asking them to send you comments, or contact you directly using email. You can track your readers activity via google analytics and learn about what your readers are reading and sharing.
A fantastic way to get your name known is by allowing readers to share via email, Facebook, Twitter and Google Plus. Of course the decision is yours, these features can be turned off if you prefer to provide content for subscribers only.
The Branded App is a new product available with 3D Issue which allows you to create your very own app. All you need to do is purchase the Branded App and the Account Manager and Apps Team at 3D Issue will liaise with you to get the information they need to build, test and submit your app to the App and Play stores. In a short 14 days your apps will be ready to use by your readers while your competitors editions gather dust.
A catalog wouldn't be a catalog without a shopping cart. 3D Issue software has a shopping cart plugin feature that allows publishers to connect to their shopping cart. This lets reader's shop in-mag. You can link your shopping cart to your 3D Issue magazine in a few simple steps.
When creating your magazine its vital to consider creating a magazine that sells. Including smart content targeted at the correct audience is as important as for print magazines, and not over doing interactivity will keep your magazine sleek and purposeful.
In conclusion, it is very easy to create a mobile catalog app with 3D Issue. In a few simple steps you could have your own personalized app which you can be access on the app stores.
Watch the shopping cart tutorial video here.
Why not download the 14 day fully functional trial to get started.