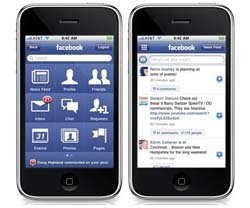 News from Facebook claims that revenue generated from those logged into their Facebook accounts whilst using an App generate more revenue than those that don't. This really shouldn't come as the biggest shock ever one could safely have presumed this to be the case i.e. that those who are willing to connect every app and utility at their disposal are more likely to want to make in App purchases. The fact that one of them is Facebook gets more attention.
What does it mean to use Facebook in this way? A good example is Netflix the well-established on-line video streaming network. Desktop and Tablet viewers of Netflix have the opportunity to login to their Facebook account to share the shows they are watching and intend to watch. Information which will be both appreciated by friend and Netflix – alike we hope.
Facebook also announced via their developer blog here that the users who are logging in are more engaged than those that don't. The lines have a PR slant to them but in real terms this is positive news as engagement is vital for future app development and social networking generally. Some of the opinions expressed below:
"Facebook creates a stronger network effect and connection to the game and among gamers, which results in higher retention with our games. Features like a leader board and gifting keep users engaged as they progress through game levels together, while at the same time attracting new players." – Perry Tam, CEO of Storm8
"Diamond Dash has shown us that being social on mobile ultimately results in a better experience for the player. Users who play socially are more engaged and are able to get the most out of the game by sharing their experiences with friends." – Jens Begemann, CEO of Wooga
Don't forget 3D Issue Version 6 now allows publishers to push content directly to their Facebook page via the Output tab check it out via the 3D Issue trial here. Readers of 3D Issue Professional and Enterprise editions may also avail of the share via Facebook publish to wall option.
For more information on 3D Issue get in touch with us today Twitter Facebook Web
Image thanks to the nice folks here.