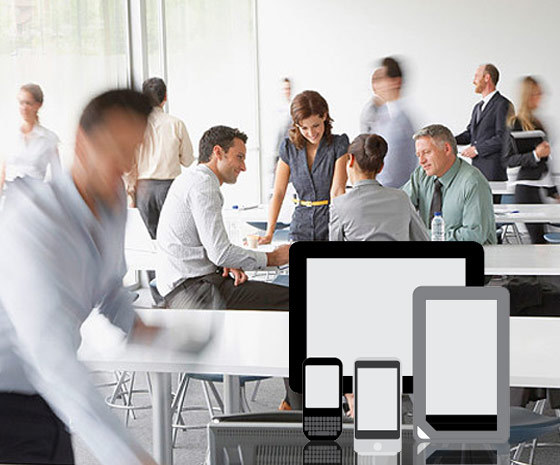 You may have wondered recently if mobile apps can help save your business? In today's blog we will talk about the top benefits that mobile apps offer for business.
Mobile apps are taking the world by storm. Whether it be a big branded business or small, all businesses seem to be following the idea of an app.
Did you know that figures show that 89% of time spent on a phone is spent in a mobile app? And only 11% of the time is spent through the mobile web?
Making an app is a quick and easy way to communicate with a customer and provide them with information.
The advantages of having a mobile app for your business

1. Spreading the word
By having your business out in the world as an app, it is most likely to get the recognition you believe it deserves. You are able to insert any information about your business including contact info, special offers and upcoming events, and by having auto-updating content sources set in your app, your customers will not forget about you.
2. You are in control
It's your business, your app, so whatever you say goes. It's a fun and easy way of showing the public what you wish to say. The best thing about making your own app is being able to design it in any way you wish. You can add pictures and colors associated with your brand you can include videos, articles, promotions and even the choice of layout. The possibilities are endless, show your customers your creative side, it couldn't be more simple.
3. Ahead of the times
Putting your business out there in the world can be challenging, especially when just starting out. Even if you are a small business there is no reason why you can't have an app. Move into the modern era and get ahead of any other businesses you may be in competition with. A survey has shown that men have spent 29 hours 32 minutes and women 30 hours 58 minutes on mobile apps alone in the space of a month. Whereas men only had spent 3 hours 45 minutes and woman 3 hours 46 minutes on mobile sites.
4. Connecting with your customers
What many businesses lack is the bond between their brand and their customers, which can make or break your company. With the use of an app you are able to keep in touch with your customers. You can update them regularly with news and other information in your app so your viewers will never lose interest. Include ways of interaction and where they can contact you (Facebook pages, Twitter pages ect). Our apps update automatically with news of your choice suited to your business so you don't need to update it manually every time you have a new article to share. Our apps also can sync any of your facebook/twitter posts onto your app so your customers do not miss out on anything!
The economy of mobile apps is exploding and will continue to expand. It would be a shame for your business to miss out on such a great opportunity to spread the word, especially by such an easy and popular means of communication.
If you have any queries about making an app, we are always here to help, contact us at info@3dissue.com.
By Georgia Keys