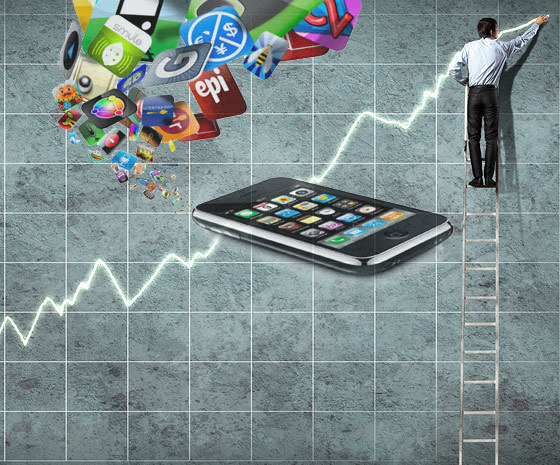 Mobile apps have truly taken the world by storm, never before has a new technology been met with such with mass consumer appeal.
In today's blog we offer a little advice on how you should be aware of current statistics on mobile app downloads and how this should influence how you plan and attack your mobile marketing strategy.
See a useful blog here on the top types of mobile marketing to boost commerce.
Statista shows a forecast for the number of mobile app downloads from 2009 to 2017. In 2009, worldwide mobile app downloads amounted to approximately 2.52 billion and are expected to reach 268.69 billion in 2017.
Smart Insights report that Apple's App store has now reached 25 billion downloads, tracking at 1 billion downloads a month, a figure nine times greater than McDonald's sells burgers.
Should you create your own company app?
If you have a website and share web content on a regular basis then you should have enough content generated to populate an app. 3D Issue create custom business apps that can be branded and designs to suit a company's corporate identity, colors, styles, images, fonts etc. It is a simple process powered by 3D Issue's aggregator tool Hubs that can pull in web content from various online sources and updates automatically making your app full of the latest news about your company and related industry topics.
Changing mobile web usage habits to be aware of:
Because now a days people are downloading more apps, their mobile web usage is changing too. Less time is being spent accessing information through the mobile internet; this is hurting top search engines like Google that make a lot of revenue from clicks on paid ads. The new behavior is "searches within apps" this is perhaps a more relevant way to search as one knows the app, and trusts the content it contains to be more appropriate to their needs.
If you like an app to compete in this rapidly growing marketplace please email info@3dissue.com today for more information on pricing and how to get started.
By Audrey Henry