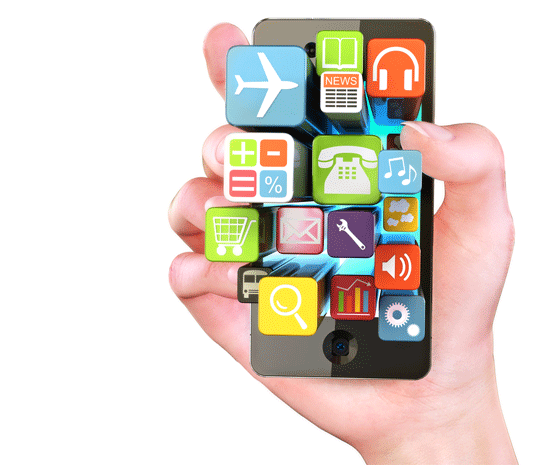 Today we will take a look into the app world to see why it is the next step regarding business plans. We will also look at how to tackle the mobile app business with no previous coding experience or knowledge needed.
In 2015 the mobile app business is growing, with technology advancing daily many businesses are turning to apps. According to Smart Insights mobile media time is now greater than desktop, with a high figure of 51% compared to the 42% for desktops.
These figures show the majority of people are using their mobile phones daily for everyday tasks. As mobile phones advance, businesses find they must also keep updated in the latest trends. It has become clear that if your audience cannot reach you through mobile search you are not providing a satisfactory mobile experience.
However, with the introduction of apps this has been made even simpler. Mobile apps are one of the most popular features of smartphones, in just a few years apps have become a phenomenon. Through the extensive selection available every category is catered for. Creating an app for your company can help you stay ahead of the game. With 1.5 million available apps on the Apple store, this shows exactly how quickly things can change.
As previously mentioned, there is a large selection of different apps available, categories range from gaming, travel, music, fitness to entertainment. This means there is a place for any business in creating an app. Mobile app business is the next step in taking your business forward and putting it ahead of competitors. In September 2015, business apps were the second most popular category and in the summer of 2015 more than 100 billion apps download from Apple app store. If this is anything to go by, then creating an app for your company is a must.
Creating an app is not something a lot of people know how to do though, not everyone is a developer. For those of you that need a helping hand or steer in the correct direction then check out our recent blog on 'How to create your own iPhone App', it identifies a few key points on how to create your own app.
As with any new idea you want to know exactly what it does and how it can benefit your business. With 3D Issue app you can create your very own marketing app, no coding involved AND it's cross platform, meaning your content is accessible on whatever iOS, android tablet or smartPhone your audience chooses to view it on.
'What is the best way to start in the mobile app business? 'Is a common question heard being thrown around. The best way to answer this would be to sit down and think about what it is you hope to gain from creating an app, what platform you would like to use and what it is exactly you want your app to do. Only then will you know where to begin.
I hope you gained a lot from today's blog and that you are now aware of your next steps. If you do have any further queries, then get in touch with our staff who would be more than happy to offer you some guidance.