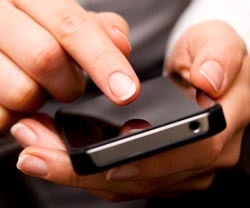 Cast your mind back a few years, do you remember life before mobile phones and particularly smartphones? It's quite difficult to imagine a world without mobile connected devices such has been their influence. Smartphones and tablets have secured a place in our lives to such an extent that it is becoming hard to differentiate between the times they were in our lives and the times they weren't.
With this in mind, in today's blog we will be concentrating on mobile advertising and the obvious benefits it can contribute to your business. Before we get down to business I'd like to outline some interesting statistics which will whet the appetite for what is ahead.
Read more on Digital Marketing in 2013: The Year in Review here
The statistics
• Over 60% of searches on the web are through a mobile device Source
• The world has gone mobile and those conducting searches won't wait around if your site isn't mobile friendly Source
• 25% of mobile users access the internet solely on their smartphones Source
• 91 percent of adults keep their smartphones within arm's reach. (Source: Morgan Stanley)
• Where: 70% of general online searches lead to action within one month. (Source: Ogilvy)
• Mobile Searchers are "Purchase Driven" and are looking information quickly! Source
• Google has a separate index for mobile content. Source
• 9 of 10 mobile searches lead to action, over half lead to purchase. (Source: Google)
• On average, Americans spend 2.7 hours per day socializing on their mobile device
• There are 5x as many cellphones in the world as PCs. (Source: ImpigoMobile)
• 95% of smartphone users have used their mobile devices to look up local information. After doing so, 61% called the store and 59% visited. (Compuware.com)
• 60% of mobile users expect a site to load in 3 seconds or less. (Compuware.com)
Below is a great presentation by Jamie Turner which outlines the facts in an easy to digest fashion
The effects of mobile advertising on your business cannot be overstated, it is crucial and will continue to be so, in fact it becomes even more vital with each passing day. Below are five strategies to implement into your plans to aid you in your journey to mobile-centricity.
Read more on Content Marketing in 2014 – What Can we Expect? here
1. Show up! – PPC (Pay per click) advert space on mobile is considerably less than desktop PC's, never has it been of more importance for your to rank highly in terms of both SEO and SEM when searches are conducted. A study by Google and Nielsen found the 59% of people found mobile adverts useful. Make this one of your first ports of call.
2. Hubs – Maximum reach is what you require; by using Hubs you are effectively creating one strategy for all devices; creating responsive publications for tablets and smartphones, allowing for consistent presentation of content across all devices. Using Hubs will enable you to invigorate all the senses through its multimedia integration capabilities. Hubs has many facets that can aid your branded content creation and distribution.
Simply by pointing Hubs towards your RSS feeds, blogs or your CMS, these responsive web tools will extract your content and place them in dynamic forms that can be automatically shaped around the resolution of the device that your reader chooses to consume the content on. This eliminates the need for publishers and business to manually transport this content by themselves; this will result in huge savings in terms of internal resources and expenses.
3. 3D issue – You may have publications that require the added qualities of responsive features and the enhancements that rich media will undoubtedly bring to the table, this is where platforms such as 3D Issue come to the fore. Digital magazines can now be created in HTML5 as well as flash. This enables users on iPhones, iPads, Android and other mobile devices to get the very best digital experience, when and where they want to access it, with all the features of the web version.
Read more on HTML5 Apps – Publish Cross-Platform Content. Here
4. Have a clear call to action – as noted in the statistics earlier, mobile users are more likely to take action based on their searches. Mobile users undertaking searches are doing so with a concrete purpose in mind, ensure your mobile advertisement makes that next step crystal clear to the consumer.
5. Location, location, location! – Consumers are increasingly relying on mobile applications and location based services more than ever before. An ISCA study found that 58% are utilizing location-based services applications and of this number 32% were employing this method more than the year previously. Source
Read more on Cross-Platform Content Marketing Initiatives for 2014. Here
Do you want to enable your content to compete in a mobile driven world?
Try Hubs and the free fully functional trial of 3D Issue today.