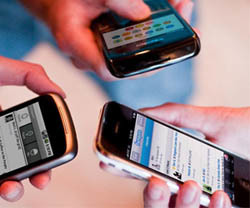 Mobile is a platform which has transformed the way in which we view and digest online content, perhaps forever. It is has infiltrated our lives like no other device, it has become such an integral part of daily tasks across the globe that many would struggle to imagine life without them and indeed what life was like before them.
This progression is reflected by the increase in expected spending on global mobile advertising for the year ahead which is expected to reach $18 billion; this figure is up from an estimated $13.1 billion in 2013 and is expected to rise to a colossal $41.9 billion by 2017. This represents a 40% YoY surge; this is a platform that is going places, and fast. This transition has been on the cards for some time now but this year is expected to be the year when it starts to fulfill its undoubted potential. In August last year a report by eMarketer found that adults in the US were adults are spending 19.4% of their time on mobile devices, compared with 19.2% on laptops and PCs.
Thomas Husson, a vice president and principal analyst at market research firm Forrester Research spoke about mobile advertising trends and what he expects to see take hold in the coming year,
"During 2014, we'll pass a key milestone: an installed base of 2 billion smartphones globally," Husson wrote in a blog post. "Mobile is becoming not only the new digital hub but also the bridge to the physical world. That's why mobile will affect more than just your digital operations — it will transform your entire business . 2014 will be the year that companies increase investments to transform their businesses, with mobile as a focal point."
Its clear Husson, like many others, foresees a strong year ahead for mobile and mobile advertising in particular; this is a facet of many businesses approach that has and will become ever more prevalent worldwide. You simply have to be accessible by mobile in order to harness the inherent power of this platform in an ever burgeoning online sector.

The percentage of companies budgets dedicated to Digital advertising spend will increase. This is a bit of a no brainer but is a fact that has been reflected across the board with the plethora of companies increasing their mobile ad spend in 2014.
Speaking about Samsung's plans for mobile in 2014, Aman Malhotra, Head, Digital Marketing (Mobile Business), Samsung India Electronics said, "We expect our mobile ad spends to be about 20 per cent of our digital budget this year. This is almost a doubling over last year's budget." When asked what he felt about the predicted mobile ad spends for 2014 in India, Malhotra replied that it is quite possible to achieve that figure given the rate of adoption in the country. Source.
This approach was supported by other companies such as Kotak Securities and Country Head Media when they revealed their plans for the year ahead,
Jaimit Doshi, SVP (Marketing), Kotak Securities, expects his mobile budget to be 20 per cent of the total digital budget. Though he would not be drawn into speculating about numbers, he said, "The mobile is without doubt the future. I can't talk about figures (for ad spends), but it will be huge."
Amit Tiwari, Director, Country Head (Media), Philips India also felt that in the future, mobile will be the medium to invest in. "2014 will be a crucial year because we will see new technologies getting embedded in the mobile. From 2014 onwards, this will be biggest and most engaging medium for people," he added.
Big data will become….well bigger!
This world of ours is now connected on so many levels. 2014 will see big data become an integral tool for marketers and businesses alike, this data provides marketers with invaluable insights to consumers through their browsing behavior, social media interactions, mobile device usage, geo-location, click-through rates and online purchase patterns. This is a gold mine of information which provides marketers with the information to make crucial decisions based on the information they derive from this Aladdin's cave of data.
Mobile is a platform that your company can ill afford to ignore, the world has shown with its rapid adoption rates and usage levels that this platform will only continue to flourish and grow. Can your business really live without it?
Try the free fully functional trial of 3D Issue today and ensure your content, and your business is mobile friendly in one of the fastest growing facets of digital marketing.