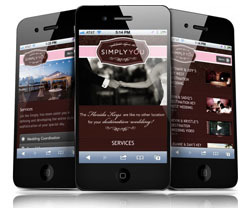 We are an online population but more importantly we are online and mobile. Internet usage through mobile has grown exponentially in the last few years, so much so that it is now fast becoming the first place people will go when they check data online.
Surveys have shown that there are now over six billion cell phone users worldwide, and of this six billion, over one billion are smartphone users, to put this into context, there are seven billion people in the world, so that's one in seven of us use a smartphone on a regular basis. Quite an impressive number I think you will agree.
Research has shown that to reach this remarkable figure of smartphone users took sixteen years, estimations state, to reach two billion smartphone users it will only take another three years. This gives us an idea of the rapid rise of smartphones and the trend is showing no signs of slowing down.
In 2011, the overall spend on mobile advertising was $3.3 billion, by 2015 that figure is expected to skyrocket to $20.6 billion, another interesting figure is that over 71% of smartphone users that see a press, TV or mobile advertisement will immediately do a search on their mobile. A clear indication of where the market is heading.
Many of us now use our smartphones to browse the web daily; the 2012 Channel Preference Study by Mobile Marketing Magazine found that over half of consumers use their mobiles to check e-mails throughout the day, while 29 per cent checked their e-mail constantly throughout the day. This represents a huge market base that, in order to stay afloat and be successful, it is essential that your business caters for.
It is estimated that by the end of 2012 there was 2.1 billion mobile web active mobile-broadband subscriptions in the world. That is 29.5 percent of the global population accessing the web from their mobile phones. Couple this with an average increase of 40% per year for mobile broadband subscriptions over the last three years and you start to get a clearer picture of the behemoth in our midst.
Mobile friendly
Is your website mobile friendly? If not, it should be. Surveys indicate that over half of smartphone users browse the web at least once a day using their phone. The implications of this amount of traffic are huge, the last thing you want is for someone to browse through your site but quickly move onto one of your competitors due to the fact that your website isn't configured to be viewed by mobile.
40% of your online traffic is mobile, this is a market share that would be business suicide to ignore, you simply have to cater for this market through responsive web design. Many brands appreciate this change in attitude and application by users and adopt a 'mobile first' approach where they ensure the content looks good and is fully accessible on mobile before scaling it up for tablet and desktop sizes. Mobile conversion rates have been shown to be making ground on desktop and tablet conversion rates and in some cases even surpassing them.
Marketing techniques such as email marketing have also benefited in this shift in consumer behaviour, more and more consumers are using their mobile to access their emails so it follows that businesses will align their strategy accordingly and ensure that emails are optimised for mobile viewing.
Not only do you have to be mobile friendly…you have to be fast
The most common gripe all of us can relate to is speed, or rather page loading speed. A global survey by mobile web specialists Netbiscuit has revealed that in eight out of the ten countries surveyed, page loading speed was the most important factor, while in Australia and the US security was the most important aspect.
Companies are increasingly optimizing their efforts towards 'mobile first', the logic being that if it works fast and works well on mobile as well as the traditional devices, then the benefits will be felt across all platforms leading to a better overall user experience.

The rollout of 4G should have some implications in terms of the speeds that can be accessed across all devices, the fact remains that companies are obliged to work on the premise that a large number of their consumers will be browsing their sites with mobile devices and as such should be catered for accordingly.
Sites and content are being streamlined to aid in this process, we are an instant gratification generation, we want information and we want it now, if a page is taking too long to load, consumers will inevitably move on to another site that loads up quicker. These actions will not only increase your bounce rate but can affect your SEO, a scenario no business wants to face. In the same breath, if your site is optimized for speed it will encourage users to engage with your site, consume and hopefully share your content leading to higher SEO and rankings. Google will pick up on consumers engaging with and enjoying your content. Larger brands have taken note of this as proof that it effects it has across the board, by Amazons estimation, every extra 100ms of loading time cost them 1% in sales. Google also found that an extra .5 of a second in search generation time dropped traffic by 20%, the proof is in the figures!
It is crucial that your site is optimized for viewing across all devices and is streamlined to offer the fastest page load speed possible, consumers won't hang around for your site to load, studies have shown that one in four people will move on after four seconds if your page hasn't loaded by then and three out of five won't come back to your site at all.
Never before has speed being of the essence been more pertinent.