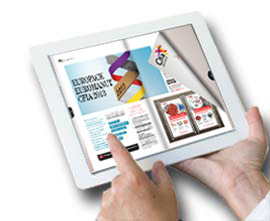 Much of the content we view, read and watch is now online, advancements in the devices we have at our disposal combined with ever increasing broadband connection speeds and widespread 4G rollouts has made this an attainable reality for many of us. Smartphones and tablets have enjoyed incredible success and adoption rates amongst the majority, all in a very short space of time.
Smartphones and tablets are often our first port of call when we seek content or information, for many of us it is now second nature to pick up our smartphones or tablets when we have a question we need answers to or subjects we wish to learn more about. Quite simply put, the world at large has migrated online, a business in today's world has to have, and maintain, an online presence in order to flourish and prosper.
The widespread adoption rates of smartphone and tablets has made an online strategy a necessity for businesses and forms the basis of today's blog where we will look at some must-have features for media publishing platforms.
• Interactive capabilities
It's a digital platform so why not take advantage of the fact? Your publication should ensure that end readers have a unique reading experience, flipping through the pages like a real book, the only difference being that since this is a digital publication you should be able to utilize the obvious advantages of video and audio. This should include the ability to watch embedded videos and flash, listen to related audio clips and having the ability to click through to further information on the internet.
• HTML5 Version for Mobile Devices
Digital magazines can now be created in HTML5 as well as flash. This enables users on iPhones, iPads, Android and other mobile devices to get the very best digital experience, when and where they want to access it, with all the features of the web version. Considering that there is one smartphone for every seven people in the world, and the very real fact that this figure grows with every passing day, then this is an essential feature for your publishing platform.
Search engine discoverability is paramount. You can have the most beautifully crafted magazine in the world but if people can't find you it will go to waste. Your software should include the abilities to create multiple seo profiles where you can customize the page title, description and keywords. You can then add the html pages to your sitemap to ensure search engine visibility.
• Optimized Performance for iPad Publications
Let's face it, the iPad is one of the most popular tablets in the world with over 170 million units sold to date, you can't afford to miss out on this lucrative market. Your publishing program of choice should include enhanced performance of HTML5 front end flipper and slider components, pinch-zoom functionality in HTML5 on iPad, background images can be added to HTML5 on iPad and Android, and an optimize for iPad option added to software to output pages at optimum DPI for viewing on iPad.
• Reach your Audience on any Device
Your content has to be available to the consumer no matter what device they happen to be using at the time, regardless of whether that device is a smartphone, tablet or PC your content has to be available. 3D Issue allows you to convert your PDFs into digital editions that can be viewed on PC, Mac, Netbooks, Tablets, iPads, iPhones, Kindles and other e-readers.
• Publish Quickly and Easily
In order to satisfy the consumers thirst for content you will have to update your content regularly, the publishing platform you choose to distribute your content should make this process as effortless as possible. The platform should be intuitive and user friendly enabling you to create your digital editions in minutes. This is a task you will be performing on a regular basis, the last thing you want is for the process to be time consuming or difficult in any way.
The above list of features are must-haves in your media publishing platform, fortunately, all these features and many more are available through the 3D Issue software, why not try out the free, fully functional trial of 3D Issue today and see for yourself.