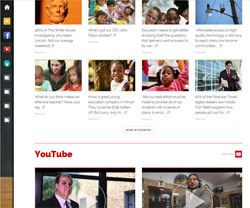 More and more of the key players in publishing software solutions are starting to switch on to the importance and the benefits that media curation can offer.
Hootsuite follows hot on the heels of Digg and AOL to announce their own curation tool for their social media management platform.  Rumors are that Adobe and FaceBook are also working on solutions. I am actually surprised that it has taken FaceBook this long to see this. They are starting to get a little slow off the block, much like Microsoft in during the dawn of the internet, "just another fad hey, Bill!"
So why as a gold rush started? Why are all of these companies tripping over themselves to push out social aggregators?
It is all about audience retention and with RSS any company can integrate social aggregation and establish themselves as a media powerhouse.
Firstly, The manner in which people consume content has changed as a result of 'search'. We scan rather than read, we consume snippets of news in preference to full articles.  News articles are inverted.  The most important information is at the start and the least important is at the end.  When I am flipping through a news paper or a news portal, I read the first couple of lines and if its of no interest I skip on to the next. If I am interested then I click or read more.
Secondly, social aggregators offer a solution to a pain. No portal has all the media needs of a user so your audience bounce from site to site to fulfill their needs.  For example, one site will address their regional news, another will address their national needs, and others address industry specific needs.
What social aggregation tools offer is the ability to serve those snippets of news from all of your audience's prefereed sites in one place by harnessing those news portals RSS feeds.
What then happens as a result of this is that the audience is been retained within the social aggregators platform for longer periods of time. This allows the owners to then extract more value from this increase in traffic and customer retention.  This is why there is a gold rush.
With tools like Hubs, anyone can integrate social aggregating technology into their existing platforms. Imagine you are a small regional newspaper.   The average time of each visitor to your site is probably 3-4 minutes.  Imagine if you would serve your audience snippets of the other news that interests them such as trending national, international and industry specific news through the integration of social aggregation tools like Hubs.  It would dramatically increase user retention and give you more time to serve your audience with niche local advertising that resonates with them.  Just a thought ! Image thanks to the nice folks here.