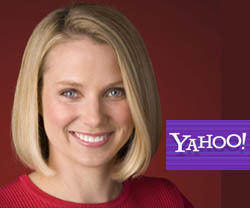 Recent economic constraints has meant everyone has had to tighten their belt and maximize the potential of what they already have at hand to their best advantage, never before has making the best out of what you already have been more pertinent. This fact was highlighted this week by Yahoo chief executive Marissa Mayer during a Consumer Electronics Show (CES) keynote presentation at a thronged theater in Las Vegas.
"Yahoo is about making the world's daily habits inspiring and entertaining, and there are few places as inspiring and entertaining as CES," Mayer said. "We have been hard at work re-imagining Yahoo's core businesses across search, communications, media and video — all powered by two powerful platforms, Flickr and Tumblr."
Mayer outlined her vision for the company with references to new apps, websites and improvements to existing projects. This overhaul of the search engine giant's strategies is a clear indication of their desire to reposition themselves to former glories which, amongst others, includes a foray into the digital magazine arena with the launch of Digital magazines Yahoo Food and Yahoo Tech.
"We decided to do what I love – harness the power of the web and deliver it in a concise experience, like that found in the beautiful, elegant magazine," said Mayer on stage.
Yahoo new digital magazines get underway with Yahoo Tech, former New York Times technology commentator David Pogue explained, "At Yahoo Tech, we're going to speak English, it's call human – we're taking care of the middle 85% of internet users, the normal people," said Pogue. Accompanying the tech digital magazine will be Yahoo Food which will number a collection of polished recipes and culinary delights which Mayer herself describes as "everything an at-home chef needs to feel inspired", the digital magazine will be spearheaded by well-known writers from leading culinary publications.

This pivot in approach towards the adoption of digital magazines reflects the influence the digital age is having on all corners and elements of our day to day life, this shift in tactic further highlights the power that connected devices are having over us as a global population in the main. Connected devices are available at our every turn and this latest move by Yahoo reflects the growing strength and influence they yield.
News digest app
Amongst the many announcements for the year ahead was the launch of a Yahoo News digest app which purpose is to deliver concise, personalized summaries of global news delivered to your smartphone twice daily. This is a direct result of the acquisition of Summly, the summarizing artificial intelligence technology developed by Nick D'Aloisio which earned him $30 million in the shape of a buyout by Yahoo for his sterling efforts.
Product manager Nick D'Aloisio explained: "Newspapers used to provide comprehensive summaries of current affairs, but on mobile, there is so much to choose from that it's become overwhelming. So we wanted to design a new product around the idea of being quickly informed on all the need-to-know stories of the day."
"Yahoo News Digest, at its core, simplifies news and solves the problem of information overload and TL;DR," said Yahoo product manager Nick D'Aloisio, referring to an acronym for 'Too Long; Didn't Read.'
Summly was one of many acquisitions by Yahoo in the past year, some of which raised eyebrows at the time but now seemed destined to be part of one grand master plan spearheaded by Mayer and her vision for the sleeping giant that is Yahoo.
Branded content will also be weaved into the fabric of Yahoos advertising content, continuing what is becoming an ever increasingly popular tactic employed by businesses and publishers worldwide, this intertwining of storytelling and advertising has gained some very notable traction recently and this adoption by Yahoo further reaffirms its rise to prominence
Mobile centric
As has been referenced in these blogs before, mobile is going to have a major say in the year ahead, a fact Mayer alluded to when she said, "We're in the midst of a massive and continuing platform shift to mobile and something that's central to our forward progress at Yahoo," said Mayer.
One common denominator that exists in all of Yahoos new products is that they are based around a 'mobile first' approach whilst maintaining excellent quality on the desktop platform. This intimates something that is common news to readers of these blogs, and that is mobile centricity is paramount to all businesses big and small, a fact reaffirmed by Yahoo and Mayer's approach to basing their whole game plan around the fact that the world is online through mobile connected devices and that this market demands to be catered for.
The vision
Marissa Mayer is clearly a very driven, intelligent woman with a distinguished 13 year career at Google on her CV, one of her overriding qualities is attention to detail, a fact highlighted by the now infamous 'Forty Shades of Blue' episode. For any reader out there not familiar with this piece of history, Mayer had an argument with a programmer over some very minute differences in the shades of blue used in their links, the argument was based around which shade would generate the most clicks, under her orders, 40 different shades of blue were generated and shown to a small percentage of visitors with each performance monitored with the end result appearing on Google's mail and search pages.
It is crystal clear this is a lady who knows what she wants and will not rest until she achieves her vision, it is also transparent that she has a vision for Yahoo and will not rest until that vision is realized. When a large part of that vision is the introduction of digital magazines then you don't have to be a rocket scientist to work out where she foresees this industry in the very near future.
The world is online through mobile devices and is consuming more content than ever before, it is now estimated that 1 in 7 adults in the world now own a smartphone, that is an astounding statistic which only further reaffirms the need for businesses and publishers to fully utilize their existing resources in an increasingly online arena. To survive and prosper, companies simply have to be online and taking advantage of the masses of eyeballs that are on mobile devices.
Put it this way, if someone has a magazine which is beautifully crafted and assembled, features outstanding imagery and typography but is not available online, aren't these magazines leaving themselves at a disadvantage? The market share they potentially miss out on doesn't even bear thinking about. For those worried about monetization there are many options which can and are being explored such as subscription based consumers and advertising opportunities.
Have you got a magazine but it's not online?
Would you like to have your magazine online?
Try 3D Issue's fully functional free trial today.