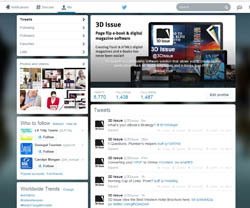 It is fair to say that social media's popularity caught most of us by surprise, there wasn't too many among us who could have forecast their vast dominance of the online world. The sheer numbers involved in social media demands that businesses become involved in marketing their brand in this sphere. This is a domain that a business can use to promote, sell, establish and market their brand, connections can be made and consolidated; the limits in this gargantuan arena are often only realized by the brands themselves. This is why in today's blog I am going to outline some tips for marketing your brand on social media.
Work out your objectives
Why is your brand on social media in the first place? What are you trying to achieve? Is there a particular goal you have set for social media to achieve for your brand marketing strategy? You should have a clear goal in mind and employ the SMART approach (specific, measurable, attainable, relevant and time bound).
Avoid using social media purely as an advertising tool
This is a common mistake by companies embarking on marketing their brand through social media, sure you have to get your message across but shoving advertising material in the consumers face isn't the way to go. Your content should have value to the user, concentrate on creating discussion and engagement, establish yourself as the point the consumer will look to when looking for information in your field, build relationships of trust and understanding.
Go where your customers are
Social media changes constantly, these changes can include what platform your target consumer is using, do some research into where it is that your customer is spending time, is it worth establishing and maintain a presence there? Are there other platforms that may serve your goal better? Never stretch yourself too thin, there is nothing worse than a presence on social media with no content or updates from six months ago, it shows a lack of interest and organization. Work out the social media domains that you are going to concentrate on give them your undivided attention.
Not updating your social media profile
As mentioned in the previous paragraph there is no bigger turn off for the consumer than a company who starts off their social media presence by posting regularly but this soon becomes a trickle then stops altogether. The audience you have built up will quickly disappear, often to competitors who are taking the time to post quality content and engage with the consumer.
Your posts are not structured in a way that encourages engagement and conversation
The point of social media is to be social! It is a fantastic platform to start conversation and carry this on through to a stage where the consumer may become a buyer. Post your content in a way that encourages and allows two way conversation and engagement. Create posts that are likely to spike interest among users to such a level that they will respond and interact with your brand.
Always answer questions and replies
As social media has expanded globally, many consumers are using this option as a means to obtain quicker responses to their queries. If you neglect to answer these queries, both good and bad, then you are missing out on the opportunity to turn this query into a possible conversion. Always engage with consumers who are willing to engage with you, by doing so you are not only ensuring the lines of communication remain open but you are encouraging others to do the same.
Well, there is some tip for you to market your brand through social media, I hope you find them useful and out them into practice if you are taking your brand online (which you should!).
Want one last tip?
Try out 3D Issue Hubs and transform the way your content works for you, centralize your social media and marketing efforts in one easy to manage location that will be accessible across any device.