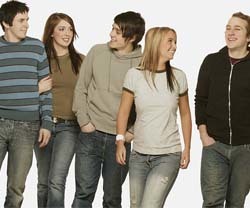 Marketing professionals have studied young people and what they can do to engage with them for years, they are the future after all.
By understanding their attitudes, what they like and what they value they can gain not just a customer today, but also a customer that will last for years and that will hopefully bring in new customers as they start having kids and they grow up. Think about it, how many brands do you like or buy from just because your parents did so?
Another reason why young people make the perfect market target is that they enjoy variety. They have numerous interests and now more than ever are really easy to get in touch with.
It's your job as a marketer to identify that specific group of young people that suits your product or service, and to create the appropriate campaign to target them.
Why are young people important?
Young people play an important role in marketing as they have less brand preferences than older adults.
However, young people have developed an ability to ignore ads and traditional marketing strategies which makes it a lot harder for them to pay attention to what brands and media have to say. Not to mention that their attention span is much shorter too.
But not only that, young adults are also more sceptical about what big companies have to say. What they see or read on social media or from their friends and family is much more important.
Yes, it is a tough market to be in but luckily there are a few tips and tricks you can use to improve your chances of success.
Targeting
Apply the same principle you always use when defining your target market young or not. Find out where they spend their time, how they spend it and the kind of media they use.
Target high school newspapers, college radio stations, you can even sponsor athletes, musicians or high school clubs that are popular among the younger audience.
Be creative, organise small events, show that you care about what they care. Listen to trends and try to get involved somehow.
Entertaining
As we have already mentioned, young people have short attention spans.
So in order to catch their attention, you will need to find a way to deliver your message in an entertaining, quick way.
Videos, games or apps are your best bet to keep this audience engaged.
If you're interested in making an app, you can within minutes with 3D Issue. For more information visit our apps page.
Social media
Engagement on social media is very important as it will increase your traffic and brand awareness. Do you know any young person that isn't present on at least one social platform?
It's ok to ask your followers what they think of your new product or tips on how you could make your service better, and if your audience is asking you questions make sure you get back to them as soon as you can. Your main objective is to keep the ball rolling and the conversation going.
Be Convenient
Young people don't like "wasting" time looking for something. They want the information then and there with no hassle.
The easier you make it for them to access your content the better. If they know you offer what they need straight away and whenever they need it, they'll be hooked.
And that takes us to the next point:
Hubs
If you are active on social media sites, have different promo videos and images of your product you'd like to share with your audience, or you publish regular content in form of blogs etc. You can create a hub that gathers everything in just one place.
A hub is a great idea to engage with the younger audience as it's the best way to provide them with a straightforward source of information. All your blog posts, videos, images and social media accounts such as Facebook, Twitter or YouTube can be added there.
You can visit 3D Issue Hubs page for more information
If you take one thing from this blog today remember to keep your younger audience entertained by keeping it simple.
If you have any questions about today's blog contact us here at info@3dissue.com