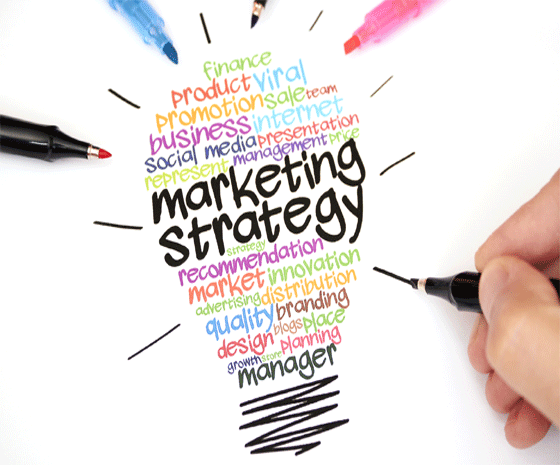 A company or businesses marketing strategy combines all of its marketing goals into one comprehensive plan. The time and effort you put into your marketing strategy can be the key to having a major increase in profits to many unsold products.
Let's take a look at some marketing strategy ideas and how they can be implemented to help the growth of your business:
• Get involved in Social Media: When creating social media accounts, research the platforms that are available and choose the ones that will suit your product needs. Facebook, Twitter, YouTube and LinkedIn are the most popular among businesses. Instagram, Pinterest and Snapchat are also good, especially for those businesses that appeal to a younger audience. Updated content and regular activity on social platforms are vital to keep users interested, participate in themes like #ThrowbackThursday, keep posts short, engage with customers and include other forms of content like images and videos.
• Talk to your customers: Get to know your customers better, ask them for feedback on potential issues they could possibly be having. Once you have done this take their feedback on board and implement necessary changes.
• Content: Write and publish interesting content that will educate potential customers. Look into different possible ways to display it, text can become tedious and lose customer interest. A new way of displaying your content may be through the use of a hub, a hub allows you to bring together content you may have on your website, blogs, social media accounts and more.
See how customers are using 3D Issue Hubs to transform their marketing content.
• Get Creative: Set your brand apart from competitors by creating unique, business cards, pamphlets and flyers etc. You could also include your social media account logos and names to attract potential customers to your social media. Do not ignore the power of having a promotional publications online; check out these samples for inspiration.
• Offer Advice: Offering free advice, tutorials, webinars etc. you are attracting the customer to your product and building trust.
• Giveaways: This particular marketing idea solely relies on your product. In doing this you not only grab the attention of current clients you are also opening a gap for potential clients.
• Email Customers: Do not base emails merely on selling your product, provide customers with special offers, product tips, updates and other information that may keep you in their mind.
You should always be looking for new marketing strategy ideas to see what works better for you and your company. Marketing strategies can change weekly; in order to stay ahead of competitors you keep researching all the time.