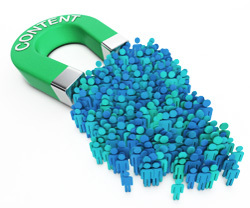 Let's get one thing straight from the off, good content is good content; there is no way to dress it up, no matter how good the delivery, how slick the presentation, the content will simply live or die by its own merits and depth of quality. When everything else is stripped away it is the content itself and the quality which resides within it which will ultimately decide how successful said content is in attracting eyeballs and traffic.
The following paragraph by Fusion Marketing Experience sums it up succinctly,
"Good content attracts, informs, persuades, serves and engages buyer personas, prospects, customers and other target audiences across the entire lifecycle and relationship with your organization and brand. It responds to the questions and needs of (prospective) customers during and after their buyer journey in correlation with direct and indirect business goals. Outside of the strict buyer journey context, it engages people and audiences and causes change and action, on the short-term, mid-term and long-term but with a clear focus on the latter. In that sense, it's essential to move away from a campaign-only mentality to a consistent approach."
Read more on Content Marketing Examples We Love here.
While the basics of good content will never change, much of the channels and tactics involved, and even the methods and ways people consume content will continue to evolve. With this in mind in today's blog we are going to concentrate on some of the key content marketing statistics and what areas you should be concentrating your efforts on to yield the best ROI.
Before we look at some of the ways that content marketing is becoming increasingly in business plans globally, I'd like to recap some of the headlines from 2013 as outlined by The Content Marketing Institute
• Ninety-two percent of marketers are now using content marketing.
• Fifty-eight percent of B2B marketers and 60 percent of B2C marketers are planning to increase their content budgets in the coming months.
• Documenting your content marketing strategy has a major impact on your success.
It's clear that content marketing has become the most successful and effective way of communicating with the consumer in a way that they will actually appreciate and take on board. This type of information is what the consumer is actively seeking; it is why they have found your content in the first place. By providing content that matters and informs the consumer of solutions to problems they may be having, you are not only positioning yourself as a reliable source of information and knowledge but you earning the consumers trust and return engagement in the process. We have assembled some of our favorite statistics from various marketing sources from across the globe which you can find below, we think you will find some of them extremely interesting reading, we hope you enjoy.

Thanks to Twin Engine for the use of the Infographic.
• Social media sites and blogs reach 8 out of 10 of all U.S. Internet users. (Content Marketing Institute)
• The average cost to generate a lead through inbound marketing ($143) is about half the average for outbound marketing ($373). (Hightable)
• 90% of consumers find custom content useful. (TMG Custom Media)
• 57% read content marketing titles at least once a month. (CMA)
• 78% of CMOs think custom content is the future of marketing. (Hanley-Wood Business Media)
• 86% of B2C marketers use content marketing. (Content Marketing Institute)
• Articles with images get 94% more views. (Jeff Bullas)
• 85% of B2C content marketers tailor their content. (Content Marketing Institute)
• 9 in 10 organizations market with content. (Content Marketing Institute)
• 37% of marketers say blogs are the most valuable type of content marketing. (Content+)
• 58% of consumers trust editorial content. (Nielsen)
• 68% of consumers spend time reading content from a brand they are interested in. (The CMA)
• 90% of consumers find custom content useful. (TMG Custom Media)
• 20% of users' time is spent surfing the Internet on content-led websites. (The CMA)
• 87% of B2B marketers use social media to distribute content. (Content Marketing Institute and Marketing Profs)
• 80% of business decision makers prefer to get company information in a series of articles versus an advertisement. (Content Marketing Institute)
• 60% of consumers feel more positive about a company after reading custom content on its site. (Content+)
• Companies with active blogs receive 97% more leads (Content+ 2013)
• 78% of chief marketing officers think custom media represents the future of marketing. (Hanleywood Business Media)
• 53% of B2C marketers create content entirely in-house. (Content Marketing Institute)
• 8 in 10 CMOs believe custom media should be an integral part of a marketing mix. (Hanleywood Business Media)
• 37% of marketing managers believe the most important channel for engaging customers is content-led websites. (The CMA)
• 37% visit content marketing websites at least once a month. (The CMA)
• Content creation is ranked as the single most effective SEO technique (Marketing Sherpa 2013)
• 27,000,000 pieces of content are shared every day. (AOL and Nielsen)
• 60% are more likely to be on the lookout for products when looking at content marketing. (The CMA)
There have been many changes within the digital landscape and content marketing in recent years and there promises to be further change in the future, this year promises to see a surge in mobile marketing and mobile video content being used to reach the target audience in particular. There is a vast amount of content available online, while being a great asset it can also make the job of your content to stand out amongst its peers all the more difficult.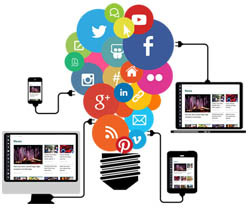 This is where content curation comes to the fore, for starters, here are four reasons:
Content Curation and your business
1. Grow Your Traffic: Content curation websites attract vast amounts of traffic. BrainPickings alone accounts for over half a million monthly unique visitors and more than 150,000 newsletter subscribers. BuzzFeed, on the other hand, is the 125th most popular website in the United States (and 358th in the world).
2. Create Content Faster: If you've ever dabbled in content marketing, you know how difficult it can be to create great content on a regular basis. With content curation, you only have to discover great content. Of course, that isn't to say curation is easy, but it sure beats pumping out a dozen blog posts a week.
3. Create a Brand Identity: By curating a specific type of content, you can reinforce and propagate your brand values. Take BuzzFeed and BrainPickings for example. BrainPickings consistently curates sophisticated, inspirational content pulled from the journals of writers like Hemingway and Hawthorne. BuzzFeed, on the other hand, is fun, ebullient and obsessed with pop-culture, which shows in the kind of posts it curates.
4. Create a Community: As you start curating content of a particular type, you will eventually start attracting an audience that favors content of that type. Collect technical tutorials and opinion pieces, and you will attract hardcore programmers and geeks. Collect entrepreneurial advice and inspirational pieces, and you will attract startup founders and wantpreneurs. Collect memes and images culled from Reddit and 9Gag, and you will find pop-culture obsessives knocking on your doors. This audience will then start congregating on your website regularly, turning it into a platform to discuss, create, and innovate new ideas – one of the biggest reasons why you should start content curation right now!
3D Issue Hubs allows you to centralize all your content into responsive mobile applications instantly. Using 3D Issue Hubs you can bring together content you have on your website, blogs, Twitter feed, YouTube account, Facebook, Tumblr and more. Your reader can then access all your content together, on the device they choose to view it on. Why not give your content marketing and your business the platform it deserves in order to prosper and grow in what is an increasingly digitized world.
Try out 3D Issue Hubs for free today.

By Charlie Gallagher