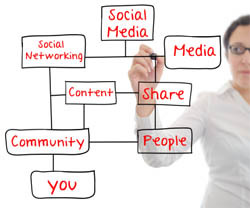 It is no secret that the world is now online, the digital marketing industry is expanding at a ferocious rate, and with good reason, after all do we not live in a world that is now dominated by digital devices and communication? Are smartphones and tablets now not the norm amongst the majority on a global scale? The sheer velocity that these devices and the communication methods we now employ have grown into an everyday part of our lives. This rapid rate of adoption has demanded that companies and businesses adjusted their approach to cater for the digital market; a fact alluded to by the increase in digital marketing budgets for companies in 2014.
This widespread adoption of digital communication has opened up many channels within this vast marketplace, herein lies part of the problem, as this marketplace is so huge and diverse, the importance of maximizing the impact of your marketing collateral has never been more important. That is why in today's blog we are going to look at some ways to get the most out of your marketing content and what approaches you should be considering. I hope you find something useful that you can use in your marketing content moving forward.
Be unique
If you haven't already identified your unique selling point, the very fabric of your business that makes you different from all the rest, now is the time to do it. This should be the first thing you do before anything else. Why should the consumer side with you over all the other competitors? What is it that makes you unique and worthy of their attention? This may take some research about your business and perhaps some honest questions that have to be answered. Figure out your strengths and weaknesses, do so relentlessly until you find the holy grail you have been looking for, your USP, only then can you move forward with your marketing efforts.
Create a consistent brand message
Trust is built through relationships; this trust translates to brand loyalty and awareness. It is therefore vital that whatever channel you use, and there could be multiple channels, that your brand is constantly projecting a consistent message to consumers. Every single activity your brand partakes in or is linked to should reinforce and compliment your overall message. Consistency is key.
Get personal
Email remains one of the most cost efficient and crucially, effective ways, of maintaining contact with the consumer. It is your job to develop regular campaigns and newsletters focusing on relevant content that the consumer yearns for. What is it they want to hear about your business? What interests them the most? The whole point of your campaigns is to drive consumer engagement with the aim of leading to conversion. Act on any engagement and research with consumers by providing them with what they want and keeping the lines of communication open for future engagement.
This point should really go without saying, content is your voice in a busy marketplace, the quality and relevance of it will speak for you and may well be the deciding factor in the consumers decision whether to engage with you or not. Content can take many forms; it can appear in the guise of newsletters, blog posts, articles, eBooks, videos, pictures, audio, webinars, white papers and more. Video is predicted to have a huge year, look into the possibilities of producing video content to match consumer demand; the numbers are there to be funneled towards conversion. The consistent production of high quality content is vital in building your brands reputation and positioning your brand as source that can be relied upon and a 'go to' when the consumer is looking for information pertaining to your field of expertise.
Don't forget about social media
The numbers involved in social media is truly gargantuan, social media has expanded in such a way that very few would have imagined at its inception. It is very important you establish, and maintain, a social presence across the board. At this point it is worth mentioning that you should be aware of spreading yourself too thin across social networks, work out which networks work best for your business and concentrate your efforts there. It is much better to focus on a select few platforms rather than be on them all and have certain social networks that your presence is dormant upon, there is nothing worse than a social presence that hasn't been updated for six months. You can read further tips for marketing your brand on social media here.
Keep the Conversation Going!
It is a nigh on impossible task to convert all your subscribers straight way, some will take more coaxing and convincing than others. This is exactly the time you should devise a retargeting campaign with reminders of your brands USP, visibility and further heighten engagement with the consumer. Give the consumer further reasons to interact with you and utilize all channels available to you to do this, this could be email, social or other means. It is also worth planning a mobile friendly approach as the numbers involved in this sphere speak for themselves.
So there you have it, six tips that will aid you in maximizing your marketing content. I have one more tip that I didn't include in the above list, and for very good reason, this last tip can help you carry out all the above points and much, much more, that tip is to try out 3D Issue today.