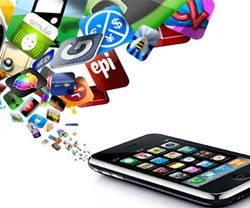 It is well documented that high quality content is the driving force behind the internet and it is how your company will be found by the consumer, content is the company's voice in an arena constantly vying for the consumer's attention. It is also well documented that smartphones and tablets are fast becoming the dominant force in terms of how the consumer will find and view this content, not only this, but consumers are spending more time within mobile apps than mobile web search itself.
This shift in consumer behavior has caused a rethink among marketers and company's alike in their quest for online traffic, eyeballs, consumer interaction and sales. Content marketing which translates into inbound marketing has become ever more prevalent in recent years. This facet of marketing which focuses on the consumer finding the company via the aid of social media or search, has proven to be both a popular and effective method in attracting and engaging with the consumer.
This method, while successful is now proving to be coming up a little short, the consumer is yearning to be engaged, they wish to have their interest spiked, their curiosity kindled and simply placing more and more content in front of the consumer, content which is not spiking their interest or kindling their curiosity simply will not cut the mustard anymore.
Just this week an article which appeared in Venturebeat supported this theory when it was unveiled that marketing technology vendor ION interactive was migrating from providing general marketing tools to helping marketers create interactive experiences that the company calls "marketing apps."
"Jay Baer, author of Youtility, says marketers need to find a way to help people when they're in the prospect phase," Ion Interactive CTO Scott Brinker told VentureBeat yesterday. "Marketing is moving from the business of communication to the business of delivering experiences … not just shoving more content at people."
In the article a great example of these interactive apps which intrigue and engage the consumer, was highlighted. A graphically rich interactive for fitness guru Jillian Michaels highlighted exactly what these apps could offer the consumer in terms of engagement and in turn the marketer in their long term goal of converting traffic into leads and sales.
"It becomes easier for prospects to absorb these messages," Brinker says. "Clients see much higher engagement rates and much higher conversion rates."
"When you're marketing into a B2B space, typically conversion rates hover around 5-10 percent," he said. "This client's 10-page interactive quiz got a 21 percent conversion rate … and that was at the very end of the funnel, people who filled out a content form. 50 percent of people actually engaged with the entire form."
It's clear that this approach is yielding impressive results and as a rule, the engagement and interaction with the consumer is proving to be the way forward for marketers and businesses alike, consumer behavior will always dictate the marketing practices employed by businesses and companies. This latest pivot points towards the growing importance and relevance of providing apps that truly engage the consumer and not just place a mountain of content in front of them which they are unlikely to navigate.
Could your business use an app to further develop interaction and engagement with the consumer?
Not sure where to start in producing this app?
Then why not try out the free, fully functional trial of 3D issue today.


By Charlie Gallagher