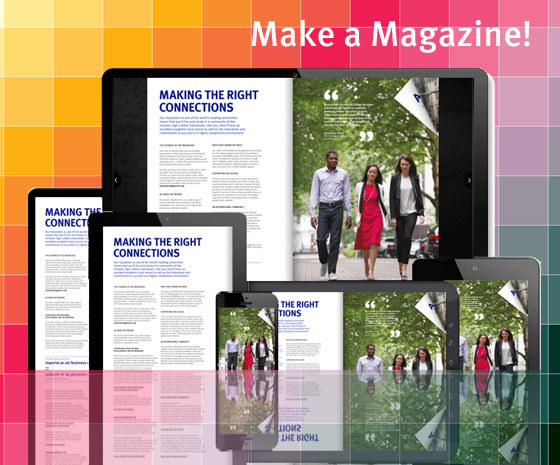 What an exciting adventure making your own magazine can be! Usually at the start of a new project energy levels are high. Keep the momentum and see the task through to the end and the results can be fantastic. Remember the result is ultimately dependent on the effort you put in.
Study your objectives…
Get contributors, advertisers, writers, illustrators, photographers, editors and graphic designers on board. Think of partnerships that could develop the size of your audience. Try to get an interview with an industry expert in your area, they will already have a large fan base so this can then transfer to your new magazine easily, and hopefully this new audience may become converted into steady subscribers of your publication.
Have a clear plan of the content you need for each section…
If your magazine is going to be a regular occurrence, a weekly, monthly or quarterly edition, decide on a printer that gives bundle offers on printing costs.
You should also purchase digital publishing software. This can be installed on you and your team's computers. What's nice about creating the digital magazine is that once you have the magazine fully finished for print you simply pop that finalized PDF into the software, here the magic can begin, it can have all types of tech features a print version never could dream of like, animation,video, web links, image galleries and much more…
Treat technology with great importance…
You can create a customized app for your mobile readers. Study your target market, review statistics of their common reading habits and how they changed or evolved since the launch of iPads, tablets and smartphone devices.
Ensure your digital version – your eMag, your eZine can be accessed from all types of computer from PC, Mac right the way down to phones. You would be surprised just how many readers will opt to read your magazine from the convenience of their ever-present personal device.
If you would like any assistance in the digitizing of your magazine, simply email info@3dissue.com for some expert advice on how to get the best results with your PDF.
By Audrey Henry