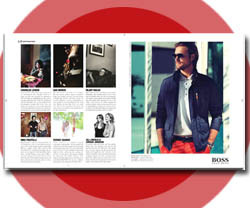 Digital Flipbooks offer many advantages to the marketers and business alike, none more so than to aid them in their marketing campaigns. Flipbooks can provide an integral base from which to build your campaign around; they can be utilized as the foundation of your marketing campaigns efforts.
Below is quick recap of some of the many advantages offered through the use of flipbooks in case you are not familiar with the concept, after you have a quick look through these I will run you through how quickly and easily you can put one together for your business as part of your marketing campaign.
• The ability to reach your Audience on any Device
• Media-rich Publications – video and audio capabilities will really make your publications come alive
• Publish quickly and easily
• HTML5 Version for Mobile Devices
• Online & Offline editions
• Google Analytics Integration
• Portability
• Ad banner advertising
• Low production costs
• Environmentally friendly
• Instantaneous delivery
• Worldwide reach
• User Login
• Image Gallery
• Shopping Cart
• Auto Detection and Placement of Links
• SEO friendly publications and much, much more
Assembling a flipbook with so many functions available to you couldn't be easier, simply follow the below steps and you will have your own flipbook in no time.
Step 1.
Go to the free, fully functional trial here
Step 2.
After opening the 3D Issue software you will be asked whether you wish to create a new publication or open an existing one, for the purpose of this blog you will be creating a new publication.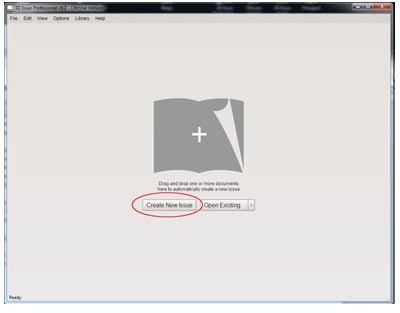 Step 3.
You will then be asked to choose the location of the files that you wish to upload, choose the location of the PDF's that you should have saved in advance and then press ok.
NOTE: 3D Issue uses PDF's to assemble your flipbook, these PDFs are the same as the ones that you would normally use for printed literature so if you have something in particular you wish to assemble, either use existing PDFs or create new ones.
Step 4.
You will then be presented with a screen that looks something like the screenshot below; there are three main options within this screen shot
1. Template
2. Profile
3. Add, remove and remove all which are highlighted below.
Add – will allow for the addition of a new PDF file.
Remove – will take one away.
Remove all – will clear the list of PDF files allowing for the import of new files. This is a pragmatic feature in the software which used correctly can allow for a swift change of content.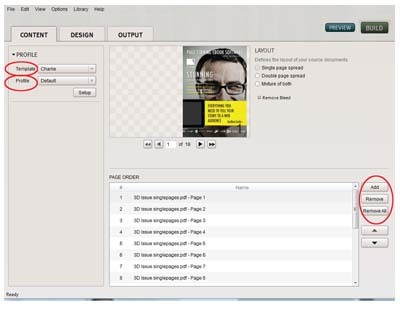 Step 5.
Arrange the order of your pages by using the page order arrows highlighted below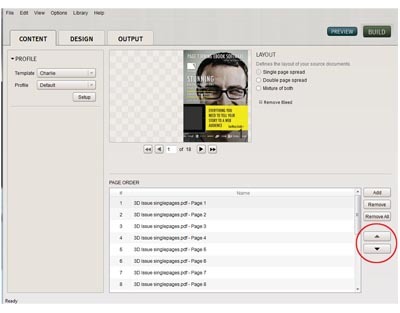 Step 6 – Layout
The layout section of the Content tab allows for the preview of the PDFs prior to any additional functionality being added to the publication. It has four options.
Step 7 – Single Page Spread – Double page Spread – Mixture of Both
This option allows the content creator to specify where the 'fold' or 'crease' in the publication is to go much the same as you where you would find the staple in a hard copy magazine at the center fold.
The convenient preview window in the Content tab of the software allows for a preview of the publication to ensure that the correct pages are in place and the 'digital fold' is in the correct location.

Your publication is now ready to publish!
For the purpose of this blog I have only shown you the very basics in putting together a publication from InDesign to page flip using the 3D Issue software, I must emphasize there is so much more you can do through the different functionalities 3D Issue offers, these functions include:
• Appearance – Background, banner, Preloader, Intro Icon Color, Spine Shading, Page turn Sound Option.
• Interactive – Add reader features including Comments Button, Info button, Audio, Video, Download file.
• Features/Reader Toolbar – Select options which are to be made available to readers.
• Menu/Table of Contents – Allocate or import bookmarks for a table of contents
• Zoom Options – Single or Double page zoom, Navigation options
• Audio Settings – Including Page-turn sound, Background audio, Audio Book.
• User Login
• Advanced options – Load control, set custom language, amend and set e-mails extrapolated from digital edition via sharing, bookmarks, Notes, Comments buttons.
You can view more guides about using 3D Issue here
You can also view video tutorials here
If you would like to find out more about the 3D Issue software why not try the free, fully functional trial today and transform your PDF's into a flipbook complete with interactive features that will enhance and enrich your marketing campaign.
So, what are you waiting for?