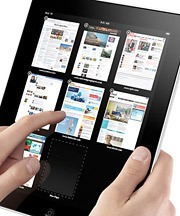 Everybody is going digital. Über is the latest in a long line of companies to launch their own digital magazine. As Ryan Graves, Head of Operations said:
"We want to strengthen the community of our driver partners (…)"
A high quality digital magazine can be a great way to strengthen a brand and create a sense of community. It's easy to convert a PDF into a Digital publication using the right software, but these common magazine mistakes could make your magazine fail.
1. Duplicating print content
By now your readers are aware of the possibilities of a digital magazine and expect you to take advantage of them. 6 years ago, offering a replica of a printed publication in digital format was more than enough to keep your customers satisfied. Times have changed however and it is now possible to add interactive features to your digital magazines. Videos, animations or background music will engage, surprise and delight your customers – use them.
2. Lack of research
Trends, tastes and technology change now faster than ever, so it's important that you keep yourself up to date. Monitor your competition and pay attention to what they are doing. You can create a few Google Alerts that will notify you of topics related to your industry for example.
3. Not understanding technology
Knowing the limitations of the technology you are using will take you a long way. Keep in mind for example that reading from a digital screen is more tiring on the eyes than doing so from a piece of paper. Avoid text heavy pages and make sure that the font you chose is nice and clear.
4. Forgetting about advertisers
Another common mistake made by many publishers is ignoring the potential of ads in your digital magazine. A good publishing software will let you add links to your advertisers' sites on the ads inside your publication. Can you imagine the possibilities?
5. Ignoring statistics
Data is important. It can be overwhelming sometimes but once you get the hang of it, it can make a huge difference. If your flipbook software includes tracking tools such as Google Analytics integration, use them. They will allow you to see which content your customers engage with, which one drives more traffic to your site, which pages are skipped etc., then you can act accordingly.
If you have questions, need more info or want to give the digital publishing software from 3D Issue a try you can contact us at info@3dissue.com or download the software here.