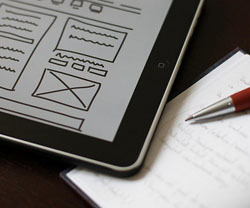 Content makes the world go round; without content the world would be a much poorer place, content aids us in every turn in life, it is the driving force behind the internet itself. Premium quality content is the one thing we all seek, but what if that content is undermined by the design that encapsulates it? You could have the most outstanding content known to man but if it isn't packaged properly chances are it will forever live in the slipstream of content that is.
E-magazines have garnered significant popularity in recent years, the features available to utilize through your magazines UX are wide and varied, so why not use them? Recreating a digital replica of a printed version will simply not do, as mentioned the features available are bountiful and will increase the enjoyment of the readers experience within your publication. This, in turn, will raise the engagement rate between the consumer and your publication, it is imperative you utilize these features.
Read more on 11 Inspirational E-Magazine Design Ideas here.
An e-magazines UX, (user experience), is vital to the success rates of your e-magazine and its content. In today's blog we will have a look at some key elements that can aid your e-magazine in attracting, and keeping hold of those all-important eyeballs.
First impressions matter – In a similar fashion to how people form impressions upon meeting other people for the first time, rightly or wrongly, people also form impressions about your publication in a very short period of time. Your publication has to be well designed and thought out. It has to encapsulate the market you are trying to connect with through its layout, use of color, images and typography. You will only get one shot, make it count.
Keep it simple – We are faced with content from every angle, every single day. While this is a great problem to have, it can sometimes get rather overwhelming. It can get to such a point that you automatically switch off from all but the most pertinent. Remember that a high percentage of your audience will be viewing your content on smaller screens like smartphone.
"Good design is as little design as possible." Dieter Rams' 10 principles of good design
Speed is vital – In this information laden connected world the one thing that suffers is patience, or rather the lack of. With so many options available, if your magazine doesn't perform the tasks it is supposed to quickly, consumers will, just as quickly, move on. You have to ensure your publication performs all of its tasks in an acceptable time frame. Test it out by trial and error and if anything is lagging, optimize its performance. The one aspect of your magazines UX that a consumer will never complain about is its speed.

A good example of this is Google, Google have gone on record to state that an increase in page load time of just half a second decreased traffic and ad revenues by 20%, speed is crucial to your e-magazines success.
Focus on content that resonates – When faced with such an abundance of content, the consumer will only allocate a certain time to digest what you have to offer. Use this time and your e-magazines UX wisely, you have the option of including audio and video to capture and engage the consumer, use them.
Read more on How to create links and rich media in your e-magazine here.
Responsive design – With the recent surge in connected devices including smartphones and tablets, it is essential that you're content; and your e-magazine is responsive. It has to be able to adjust to fit any screen, at any time. Failure to cater for this market which is growing at an exponential rate could see your e-magazine lose out on vital consumer visits and interaction.
Read more on HTML5 Apps – Publish Cross-Platform Content here.
The importance of color – Often underestimated and sometimes no more than an afterthought, color can epitomize your whole publication. Different colors can have many different meanings in diverse cultures; it is a well-known fact that color can have a major influence on consumer decisions and actions. A recent study conducted by the Seoul International Color Expo secretariat, found that 92.6% of those surveyed put most the importance on visual factors when purchasing products. The same survey asked participants to rate the importance of color when buying products,
When asked to approximate the importance of color when buying products, 84.7% of the total respondents think that color accounts for more than half among the various factors important for choosing products. Source.
If a picture is worth a thousand words, a picture with natural colors may be worth a million, memory-wise. Source
Try the free fully functional trial of 3D Issue and enhance your e-magazines UX