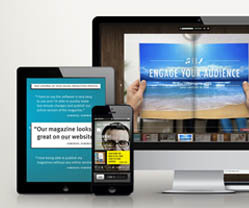 Professional Publishers Association (PPA) published figures only last week that show a surge towards digital editions of popular titles such as GQ and Esquire. Vogue has seen their digital circulation jump up by just over 463% in the past year. It would appear that magazines predominantly read by men have bigger digital pull than women's fashion and lifestyle magazine, Vanity Fair being the exception. How much of a magazine's circulation is made up by digital editions? Does it balance the ever falling number of printed copies in circulation?
Reporting on the profits of Condé Nast, Josh Halliday said: "Copies sold on Apple iPads and other tablets are, of course, where the growth is – but those editions still account for a fraction of overall sales and still fail to offset the decline in print. Digital sales of Vogue, for example, have grown by 3,898 copies since the second half of 2012 (3.78% of its total circulation) against a fall of 10,349 print copies at £3.99 apiece."
So digital magazines are not completely filling the gap generated through falling print editions. Are people moving away from the concept of a fixed copy magazine where, it could be argued, the information becomes "out of date" as soon as it hits the press? The growing popularity of the smartphone and tablet means that people are sourcing the topic – related news elsewhere on the web, instantly.
Perhaps it's not that digital editions are the problem, maybe it's the way the digital editions are presented to the reader that is leaving the gap in circulation figures? Instead of just presenting a page- flipping version of the printed copy, they should offer more to the reader and embrace the fact that they are digital and can include "now news" as well as the articles from the printed copy. Feed relevant industry related news into the magazine. Give it a life of its own. Find out where your readers are browsing on the web and bring that instant fix of gossip into your magazine; bring in a whole gallery of pictures from a photo shoot; include video of an interview, not just flat printed text; give the reader a background track to listen to as they browse through the pages. Give them more, keep them in your edition instead of having them wander off to get more up to date versions of that information elsewhere on the web!

Total Film and GQ have been praised with leading the way with a successful combined print and digital circulation. With a monthly average digital circulation of 12,280, Total Film receives 16.4% of their overall circulation from e-editions. Men's lifestyle magazine GQ also does well, having sold a monthly average of 12,231 copies digitally, although this only contributes to 9.4% of the monthly combined circulation. What is it they do differently to maintain these numbers? Digital editions must give the reader more!
By Linda Daly