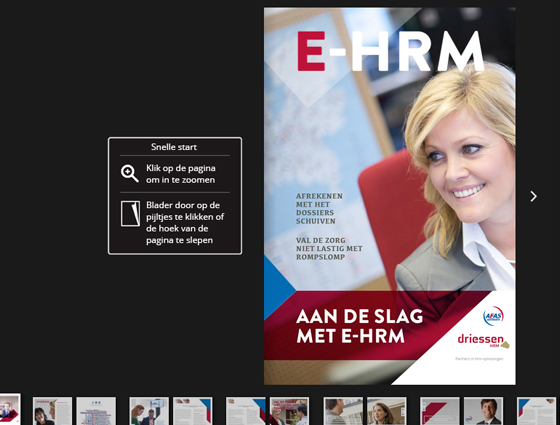 Many publishers over the recent years have been abandoning production of their print publications and moving to online or digital magazines instead. The revenue being yielded with this transition is proving favorable. Publishers, readers, audiences and advertisers are happy to embrace new technology and now with the big uptake in mobile and tablet reading magazines are finding they are gaining much wider audiences on these devices through online editions on the web and in apps.
Customize your creations by adding that unique touch: Create custom features throughout your magazine that are tailor made to suit the articles, news stories or advertisements that make up the contents of your publication. These can be thought about prior to the saving of your PDF, so at the design stage you can integrate button shapes, play video images or text relating to a special interactive feature you will add once your PDF has been imported into the magazine maker software. See a blog I wrote recently on creative magazine design to inspire you.
Make it memorable with HTML5 and flash animation: You can allow in the design stage for animations that may auto start in a page turn, features like this can add that something special to the readers experience. See an example of a magazine that incorporates animation into the design of the publication successfully. See our blog describing how to create a HTML5 magazine from your PDF.
Even with all these features in mind, I am pleased to inform you that it is easier than ever for publishers to create a magazine and circulate it online.
This form of distribution has huge benefits;
1. It is instant; your magazine can gain a global audience quickly,
2. It's cost effective, virtually free to share via email, social networking platforms, websites and via apps.
All you pay for is the software; once that payment is made the software is yours to install on your own PC, Mac or laptop and create endless publications.
If you are considering creating your own digital magazines why not give it a go. To get started, all you need are your PDFs and the software itself. You can download the 14 day fully functional free trial.
We have lots of resources on our website to help you convert your PDFs to digital editions. If you decide to trial our software you will be in good company we are delighted to announce that 3D Issue has had over 150,000+ installs of our magazine maker software worldwide. Join the online publishing revolution today!
If you would like to tell us about your magazine and get more guidance on how to add interactive features please email info@3dissue.com today, our expert digital publishing team will be happy to guide personally you.
By Audrey Henry