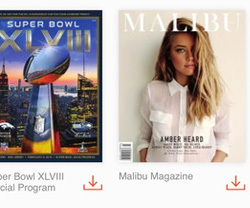 The usage of magazine library app publishing systems is becoming a major part of the digital world. One of the main reasons why this is happening is the fact that people prefer using their mobile devices as a go to choice when it comes to news and article reading.
Another factor you need to take into consideration is the development of the mobile hardware landscape where tablets and cell phones are growing into workstations, upgrading their basic purpose as a communication device.
If you recognize the need of implementing a library app for your digital magazine, you're a true professional able to keep an eye on the latest industry trends. The next question you're probably asking yourself is how to customize a magazine library app, so it fits the needs of your audience and actually provide some additional value.
Here is couple of goals your magazine library app should achieve, so your readers justify its usage on daily basis:
Make it easy for your readers to login
One thing your faithful readers find hard to swallow is the process of a dedicated user name and password, which requires verification via mail. The reader simply wants to login once on your magazine library app and make this as quickly as possible.
You need to show your user that he's not there to pump up your mailing list and allow him to use a one-step signup. This steers you towards the creation of a real community where your content becomes more accessible, which on the other hand increases its chances of getting more social media shares.
What 3DIssue offers is the option to implement a onetime signup process customers can use for their magazine subscribers.
– Pro Tip: Make the signup process effortless.
– Result: Increase number of readers that start using your mobile library app and setup the base for creating an active community.
Show your readers they're getting something more from the app
By making the signup process easy as one-two-three you've covered a huge part of your magazine's library app strategy, but now you need to start thinking about the added value we previously mentioned.
One of the smartest ways to achieve results here is to organize user orientated activities, which result with some type of reward. Good example is giving a discounted price on some of your products after a single user successfully invites a certain number of people to use your magazine library app.
– Pro Tip: Organize contests and/or user orientated activities.
– Result: Increase number of new users and engage your existing users.
Allow all magazine library app users to share your content with ease
People are social beings, so it's natural for all of us to urge to communicate with other individuals. Your app shouldn't be any different. If you manage to create a place where users can get access to tailored information that is easily shareable, you'll get an active community talking about your products or services and enjoying every moment of it.
The share button bellow your article can sometimes struck gold from the most unexpected source.
– Pro Tip: Add community features like content sharing.
– Result: Increase the time your users spend using your magazine library app and expand your influence on social mediums.
We tried to answer questions concerning your business and your audience at the same time. The reality is, you'll get a huge following of active users if you only stop to think a little bit about their needs. Finding an app that fits the description can be tough, but luckily for you 3DIssue's magazine library app is easy to use and can help you achieve these goals.