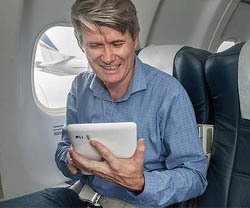 Australian online newspaper wrote an interesting article about entrepreneur Mr Patrick McElligott whose inflight magazine goes digital. Mr McElligott's idea will save airlines lots of money and provide their passengers with a memorable reading experience.
"…you've got to have a sojourn into the electronic side; otherwise you'll get left behind"
The entrepreneur behind the ingenious idea and owner of the company "Inflight Magazines," Mr Patrick McElligott has published aircraft magazines since 1999 and services three regional airlines at present.
Mr McElligott's initiative will save paper, cut printing and distribution costs and to provide the passenger with a modern, interactive way of reading inflight. It is bad news for Australian printing companies, however, who will take the hit should the initiative be rolled out across the nation.
The concept behind Mr McElligott's idea is to simply convert the magazine he provides at the moment to a digital one. He knows the digital version has so many capabilities such as watching videos, linking to the internet, purchasing in-mag, listening to music and much, much more but Mr McElligott does not want to deter advertisers from using his magazine to market their products by providing too much "distraction" by entertaining customers with games and videos. He explains:
"By supplying a magazine with advertising content on there, we couldn't have too much entertainment because advertisers aren't getting value for money. It would cost me between $12,000 to $15,000 to print a normal magazine, but I can now do the same thing for $1000. All publishers have to look at the future … paper is getting so dear."
He admits that his concept is different to the tablets some larger commercial airlines rent out to passengers, which usually contain movies, music and games. So, I asked myself, would the cost of purchasing Google tablets and iPads for each passenger outweigh the cost of printing?

No, Mr Elligott explains that the inflight device will be custom made for the purposes of the magazine only, and costs just AU$60 to build, in comparison to spending AU$500 and upward for Google tablets and iPads.
Mr Elligott visited multiple factories in China and struck a deal with a manufacturer there to build a device with a long-life battery with no camera, SD card slot or USB connector.
"We didn't want people taking pictures or leaving any unpleasant surprises for people using it after them,"
He worked with digital publisher Liquid State to create software to put editorial content on to the tablet. Mr McElligott hopes he can market his product to international airlines, but is yet to come up with a name for it
A trial run is planned to take off in one of Queensland's charter airline flights "Corporate Air." Passengers will be able to flick through a digitized version of the inflight magazine using the Android device provided by the airline.