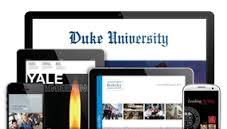 As convergence across devices becomes paramount for reader content, how is this shift in distribution and curatorship enhancing and changing the face of digital publishing distribution? Before we consider the trends on digital distribution it is important to consider where we are coming from.
Digital magazines have been around for some time. The earliest means of distribution were via mailing lists. Think 'Computer Society' rather than 'Vanity Fair'. These basic means of distribution allowed for a select group of readers to engage with their niche publications all content was distributed via email. The reader was lucky to have any images. Many bloggers today still subscribe to this model.
As software developed publications became available online directly via websites. These websites were often partnered with discussion forums and less distribution via email allowed for readership to move to mass publications.
During this time circulation for digital publications was still at an insignificant level. Publications were appearing as actual magazines during this time as opposed to their former position as extensions of an e-mail.

In the past 5 years publishing has grown to the extent that not only current editions but back issues are now available in some digital format or another. AAM statistics and others define the differences between a digital edition and a Replica. As calculation for circulation becomes more specific the medium shall extend.
In the future we can expect to see digital publications which are truly responsive not only to design and device but to location, weather, even bank balance! Distribution will continue via the web with hard copy publications eventually becoming the realm of the devoted collector. Cost will ensure that digital editions become the preferred method as physical distribution costs increase and environmental concerns affect the paper industry.