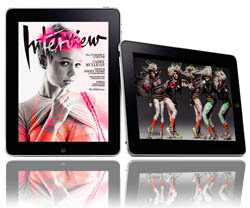 The iPad…
This little piece of technology, that in human years has just left kindergarten and is now starting school, has achieved so much in a short few years. To say it has revolutionized the way we view online content would be an understatement. Along with the smartphone it has transformed viewing habits amongst the masses. It should then come as no surprise that figures released in a recent report by MPA-The Association of Magazine Media and Kantar Media, indicate that advert units in iPad magazines iPad editions had risen 16% in 2013.
The report which monitored 69 magazines using both print and iPad editions, offers traditional publishers a much needed shot in the arm in these stringent times. Although the number of ad pages in the print editions is somewhat more conservative showing a 0.1% increase according to the report, it nonetheless offers fresh hope of the benefits of amalgamating print and digital with the report also stating that both mediums combined showed an increase of 6% year on year.
Print media has faced tough times recently with a decline of print ad pages of 4.1% last year compared with 2012 according to a report by Publishers Information Bureau which tracked 207 titles. The same report goes on to note that this was the case across the board for printed publications with the only notable exceptions being Fashion magazines which bucked the trend by showing growth in ad pages garnered.
These figures point towards a tenuous, unsteady recovery by printed titles and the ad pages they contain since their drastic plunge in 2009. While the increase in ad pages among some titles is a welcome statistic, the fact remains that there is a long way to go before print can consider itself back on a keel with former glories in terms of circulation figures and monetization once enjoyed by the majority of titles.
The iPad, tablets and smartphones
The iPad…these little dynamos of modern technology have sold over 170 million units since their inception only a few short years ago. The iPad and the tablet in general are second in adoption numbers only to the smartphone; in fact the tablet has an even faster adoption rate than the smartphone did at the same stage of its early cycle. Tablets are now thought to be owned by almost half of all adults aged 33-44 in the US according to a study by Pew Research Center.

These astronomical figures only serve to highlight how much of a reach mobile connected devices have in our lives today; they are all around us and in general enhance the digestion of content through ease of consumption, choice of content and instant availability. Make no mistake, these devices have transformed not only the way we consume content but also the type of content we can consume. As mentioned previously in these blogs, this year should see a massive spike in video and audio content reaching eyeballs and ears worldwide.
Connected devices are here to stay, if anything they are only going to have an even bigger influence in our lives in the days, months and years to come, wearable technolog being the next expected trend which will further strengthen the connected mobile industry. What the figures above tell us that while print media may indeed be struggling at the present time, their online cousins are getting stronger with each passing day, surely then it makes sense to amalgamate the concerted effort by print media and online publications? One can help the other; they shouldn't be seen as separate entities but rather different factions of the same element.
Put it this way, if someone has a printed publication already set up, it is a simple transition to transfer this publication into its online cousin using software such as 3D Issue. You will not only have the advantage of having and securing your online presence but you will also have all the advantages that an online publication will bring, these could include reaching all these connected devices whilst harnessing the original character of the printed publication with the added value of embellishing the publication with audio and video capabilities.
There are many examples of how this approach has benefited titles worldwide and the latest figures concerning ad pages in iPad editions further highlights this, it is my opinion (and hope) that print media will always be with us, I for one worked in the industry for many years and know what it means to see many people across a wide social spectrum. Some of the most inspiring pieces of design, imagery and typography I have seen came in the printed format. Print is at a stage where it needs a crutch to lean on and digital publication can be that crutch and so much more.
Try the fully functional trial of 3D Issue today and transform your printed literature forever.