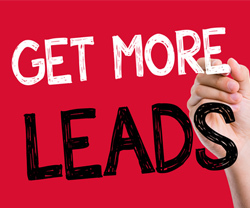 Lead generation strategies tend to be a little different depending on the platform and the channel. On mobile for example we could be talking about a customized app or a news hub.
Today we are going to focus on lead generation strategies that can be implemented on an app.
Connect UX and Data Gathering
User experience is critical. Seriously, I can't stress enough how important user experience is. In fact, if the rest of your marketing is brilliant but your user experience is terrible, your marketing efforts could end up doing more harm than good.
Can you imagine what would happen if a lot of people tried to use your app attracted from your promotions etc. but they didn't understand how the app worked? or what if they couldn't find what they were looking for?
The design of your mobile app should be simple but effective. It should let you manage and offer all your content to your audience in a tidy and intuitive way, and it shouldn't matter if you have hundreds of articles or just 40, your users should be able to find what they need straight away.
With this I'm not saying that you should sacrifice your goals either, just make sure they don't interfere with your user's experience. For example if you want to obtain more than a name and email address from your audience when they sign up, try using progressive opt-in.
Just make sure that you develop a conversation while you're at it, and try not asking for information each time someone opens your app.
Use Clickable Contact Information
When people on mobile decide to contact you in most cases they want to be able to do it right away. Making your phone number and email address clickable on your mobile device will positively affect the number of leads you get from this channel.
This is a great advice for service providers and large corporations, but it can also be applicable for small companies and startups. Just be creative, you can even consider using instant messaging apps like Viber.
Offer Unique Added Value
Your mobile app needs to offer an added value to your users, something they can't find anywhere else.
I'm sure you've heard this so many times that you're already getting tired of it, but sorry, it's really that important.
Think of stablishing a good communication relationship with your audience before you start converting them into clients or buyers or best said, advocates of your brand.
If you find it hard to create an added value for your mobile app, start building a loyalty program that will be exclusively available on your app. Discounts, coupons and vouchers are a great way to engage your audience.
We can further assist you and suggest the best ways to start your own magazine or news hub for mobile and tablet audiences, but you should also have a certain strategy in mind. The best rule of thumb is to:
• Keep things simple
• Optimize your content for mobile environment
• Optimize your design for better UX
• Provide added value
• Build a relationship with your audience
This should get you started but if you need help to find a unique way to promote your brand don't forget to contact us at info@3dissue.com.