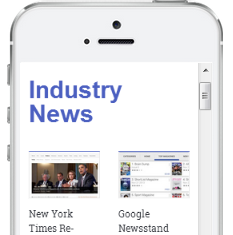 Good news folks! This fortnight's 3D Issue publication showcases the newest feature to be added to 3D Issue, Content Hubs. It contains all the latest news, trends, tips and hints a publisher could need, in one location. Content Hubs are an excellent way of centralizing your marketing content in one location. 3D Issue allows you to convert your content (such as blogs, webpages, social feeds) into a Content Hub that is responsive to whatever device it is being viewed on, and could be used as your company's mobile website, news feed, magazine, brochure or newsletter publication!
In this instance, we are taking the opportunity to use  Content Hubs for the fortnightly 3D Issue publication we publish to our readers with all the latest publishing industry news and trends. We do hope you enjoy this fortnights new and improved 3D Issue publication!
Just copy and paste the following: <iframe src="http://hub.3dissue.net/seC0″ height="315″ width="100%" frameborder="0″></iframe>, to embed the 3D Issue publication to your own site!
We'd love to hear any feedback you have on this weeks publication, or the new Content Hubs feature. Please feel free to leave any comments below, or by email to info@3dissue.com.