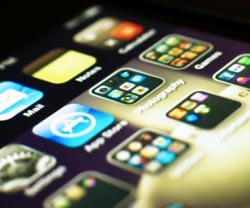 I'm sure that by now you are already aware of the fact that the phone you carry in your pocket is no longer just something that allows you to make calls whenever you are. With a few apps, your smartphone can help you keep track of many aspects of your live. In my case, I have a budget app for my finances, an instant message app to keep in touch with family and friends, an app for my email accounts, a weather app, a news app etc. and I could go on and on. But the important thing here is that my smartphone and the apps on it are the first thing I check when I'm looking for information.
So, with so many apps out there, how can you make sure your App is a killer app?
1.Add Value
Make sure that you are offering something that is of use to your customers. You don't want to use your app just to promote yourself or your products. If the users don't get something in return, they will end up forgetting about your app or even deleting it. Use your app to keep them up to date with exclusive promotions, discounts, news etc.
2.Intuitive
Anyone should be able to navigate through your app. Some may not be as tech savvy as others, so try to keep your app as intuitive and user-friendly as possible. Take a look the Wacker Neuson app to see what I mean.
3.Operating System Compatibility
At this moment in time Android and iOS are the most popular OS on mobile devices. The market share of each OS is different from country to country, but any app that aspires to be a "killer app" needs to be made available on these 2 platforms at the very least. Besides, you wouldn't want to lose users just because they chose to change platform when they acquire a new device, would you?
4.Brand Consistency
Last but not least, you should always try to enforce your brand (colours, logo etc). Not only will it be easier for your customers to find you if you do, but it will strengthen your brand and increase its awareness.
If you're looking for an easy and simple way to create an app for your business you can email us at info@3dissue.com.