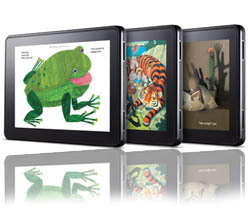 The Association of American Publishers reported substantial growth in revenues for children's digital publishing for 2012, a nearly 200% increase year over year in what has become a $177-million business.
The Children and Young Adult eBook categories are showing strong growth, and the price point is currently relatively high.
The children's eBook market has been called everything from a new frontier to the Wild West, an opportunity for growth and innovation or the carrier of the death of literacy and family values. Despite traditions, kids' books are on the cutting edge of eBook innovation. It is an arena where the very definition of "book" is being stretched, and where concepts of what an eBook is and could be are being developed. What remains the same in this bold new frontier is the love of sharing a story, something the shift from words on paper to words on a device won't threaten. Reading is part of the magic of childhood and that will never change.
E-books can range from simple conversions of a print experience to a screen, or include enhancements, animation, games, embedded video and more. Children's books are likely the largest category where publishers and developers are experimenting with what the technology can actually do, and are pushing the boundaries of what defines a "book." Many parents believe that whilst audio cues and highlighting can help a child with their reading, games and animations embedded in the e-book can often be a distraction from the learning experience.
Dr Seuss classics, including The Cat in the Hat and Green Eggs and Ham, are coming out as e-books! Random House announced recently that classics like The Cat in the Hat and Green Eggs and Ham and even books like Fox in Socks and Horton Hears a Who! will be available for your digital and life-lesson perusal this fall. They have been available in e-book form before now for a couple of years via Oceanhouse Media.


Apps are a huge and growing market, and parents seem to gravitate toward "educational" apps at least for younger children. U.S. and the U.K. parents download an average of 27.2 apps for their children each year, spending about $100 in total, according to the Financial Times of London. When it comes to apps, publishers might consider their overall objective. Educational apps have an appeal, and marketing the proof of the educational value might be an important differentiator when it comes to standing out in the app store.
By Linda Daly