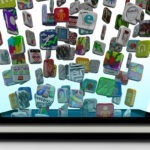 The Japanese have always had a novel take on new technology. Consider for example the iPhone. For many years Apple struggled in this market with consumers sticking with tradition preferring large screened flip phones running network orientated internet services such as Do-Co-Mos 'iMode' up until recently Sharp were the number one mobile phone manufacturer in Japan, see this forum post at Apple Insider here for more information on this topic.
It actually comes as little surprise then in light of this fact that the eReader market took time to reach any sign of life. If this sophisticated market were not wowed immediately by Apple's ground breaking device what chance does e-ink really have?
More chance it would appear going forward anyway that is for sure. One of Japan's largest e-retailers 'Rakuten' (English language version of the site available here) similar to Amazon are poised to launch their e-reader device priced at US$99 (same as Kindle) soon. Amazon at the same time have promised an on-line presence for Japan but are yet to set a date…
Rakuten have 8,000 employees and 80% of Japanese who are on-line have accounts with the site. The Japanese Book market is thought to be valued in the region of US$23.5Bn and so it is little wonder that Rakuten CEO recently attended a book fair sporting a t-shirt with the slogan 'Kill Amazon' on the front!

Rakuten are the recent new owners of Canadian firm Kobo of which many stateside and European alike will be familiar.
For more detail on this topic check out this article from UK newspaper The Guardian.
Also did you know that Japanese magazines are often printed from right to left for easier page turning whilst commuting on the jam packed train systems? See this YouTube video for an example – tip scrub through to 4Min 04sec for the page flip.
By 3D Issue