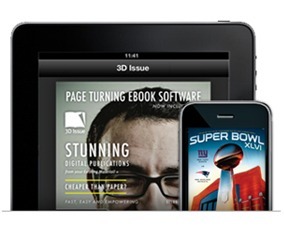 3D Issue Version 6 comes to market today and includes some great new features enabling marketers to create even better digital publications.
"3D Issue has been at the forefront of publishing for the web for many years now and in particular since the release of our highly regarded HTML5 update. We are really pleased to bring our technology to our widest audience yet, allowing for both App downloads and publishing direct to Facebook," says Paul McNulty, Managing Director, 3D Issue.
One of the major motivations behind the new release was to bring 3D Issue content to the major digital publishing eco- systems. 3D Issue version 6 users can create digital publications that can be downloaded and stored on their tablet and mobile devices via Apple App and Google Play Android Apps. This enables readers to access content on the go, even without an internet connection.
3D Issue as always has been built with ease of use as a top priority which is why 3D Issue is now the simplest and most cost effective means of creating interactive digital publications for cross platform consumption; be it on a tablet, smart phone, desktop or eReader device. This latest release provides a fast and convenient way to provide content in new ways opening up a whole new environment for readers off-line.
The Facebook App feature allows readers to access content in full digital page flip from within their newsfeed without having to leave Facebook.
As always we welcome feedback and opinions so let us know how you are doing and what you guys think of the new features.
To upgrade contact sales@3dissue.com or to download a trial visit www.3dissue.com