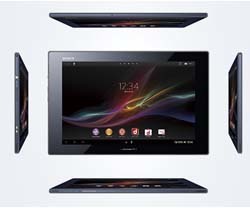 The tablet market is once more at the centre of some surprising news as Sony has just launched its 10.1 –inch Xperia Tablet Z; claiming to be 'thinner than the iPad Mini, waterproof and packing 4G LTE support'. This article provides us with an insight on the unveiling of Sony's new tablet based on a comparison between the product offerings of some of the market's biggest players: Apple and Google.
– Size: This key aspect seems to put Sony's Xperia  Z at the top of the list as it measures 6.9mm-thin and weighs 495 grams. In contrast, Apple's iPad Mini measures 7.2mm thick, the iPad 4 at 9.4mm and Google's Nexus 10 measures 8.9mm thick.
– Internal components: According to this article some of the highlighted features regarding Sony's Xperia  Z internal components include '2GB of RAM, 32 GB of internal storage, NFC and LTE support, an 8.1 megapixel Exmor R camera, and a 1920 x 1200 resolution display augmented by Sony's Mobile Bravia Engine '.
Taking into account the elements mentioned in this article and especially the Xperia Z' size and the image enhancing technology incorporated to add 'vibrancy and colour depth to screens of any size'; we can conclude that this launch is setting a new standard for competing tablet companies. Though, the question everyone is asking is….can Sony really challenge Apple's iPhone 5 with the Xperia Z?

Only time and experience using this new product will give us a clear answer as we do not have access to information on other important elements concerning this new product. Thus, other factors such as price and availability have not been officially announced yet. According to this article 'The Xperia Tablet Z, for now is only for the Japanese market and availability for this will be this spring.' Nevertheless, innovation can bring positive outcomes to satisfy the needs and wants of the digital audience and it is encouraging to see that new developments can be delivered not only from the hands of most dominant players in the tablet market.