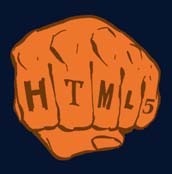 The big  news over the last couple of weeks has been Adobe's showcasing of their new flash suite that allows users to convert the applications that they have created in flash and output the files into HTML5 script.  Adobe mentioned as much at the last web 2.0 conference in San Francisco but it was great to see the tool in action at the Adobe showcase.
Not wanting to be outdone, Microsoft have also announced that they are shifting their focus from SilverLight as their web based animation package and also throwing their hat into the HTML 5 ring. This has obliviously caused uproar among the SilverLight community who have spent  time and resources in building their custom apps in this language. Silverlight will not be abandoned completely, instead it's focus will be on mobile platforms.
So it seems that HTML5 is the future. Especially when the technology powerhouses behind HTML5's competition say so.  This means that digital publishing will be seriously disrupted by this emerging technology in the coming year.  All digital edition solutions on the market are currently  built using the flash platform.
The advantage of html5 is that it requires no plugins and all content is displayed within the native browser.  It can also handle all the animations and features that have become the cornerstone of digital editions such as page flip  and zoom animation.  Oh yeah, HTML5 will also run on the iPad and other mobile devices. The only problem with browser compatibility is internet explorer but now that Microsoft have thrown their hat in the ring, hopefully they will release a patch soon.