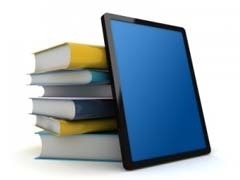 Since the arrival of the iPad earlier this year there has been much talk and speculation of what the iPad would be primarily used for – in the early days when the news of the iPad release first came to light, many thought the iPad would be just a big iPod touch and others believed the hype was justified and it would be the saving of the publishing industry.
So now the device has had time to settle in and has become more readily available, some interesting statistics have emerged.
At a pre-CES presentation event in New York last week, Teleread reported on some key report findings by the Consumer Electronics Association. The Chief Economist reported that  70% percent of tablet users use the tablet for eReading, and it could be a busy holiday period as 85% of adults  wish for "some form of tech gadget".
Further usage statistics from Business Insider report that  iPad usage is on the up with users spending more time on the device now than when they first acquired the device, additional evidence that this technology is not a fad.

Furthermore, two-thirds of iPad owners use their iPads 1-5 hours a day indicating that the device is not replacing traditional desktops, but is used as an additional platform for mobile browsing and consuming media on the move or at home.
As time goes on and more people are getting their hands on an iPad we are also seeing  many creative and different uses for the gadget, check out these 5 unusual ways Mashable found for iPad usage
By 3D Issue