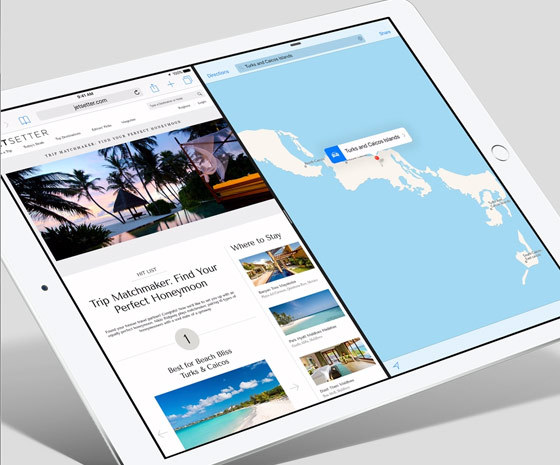 A pretty hot topic in the tech world and of special interest to app developers at the minute is the news that iOS9 is to be released on the 16th of September.
Apple's release promises to help you get the most out of your iPad and will consist of many new and updated features to its mobile operating system.
In today's blog, we will pay particular attention to the fact that iOS 9 is bringing a new feature to existing iPads called "split view".
What is the Split View feature:
This feature lets you split the screen into two sections so that you can have two apps open side by side at the same time. The apps will need to be responsive in order for them to work and display content appropriately in this new mode.
Advantages of using the iPad Split View feature:
• Both apps can be active simultaneously.
• You can multitask in apps effectively.
• It is easier to get things done.
• You may be working on a paper and need to take notes from the apps.
• You may need to look at an image in one app while accessing more info in another app.
• This new feature helps you focus.
• It aids you as you ingest information and content.
• Like having two tabs open; now you can have two applications running.
• You will have the option to "slide over" with each of the apps, so you can respond to a message/notification/email in one app, then slide that app away and return to the second app and continue where you left off.
• Online shoppers can have their favorite fashion blogger's app open while simultaneously have the shopping app they use most open also to peruse their choice of styles, brands, and trends and make purchases based on the recommendations of their most trusted style gurus.
• Ideal also for University students who are working in one application to source information and then they can use the split view function to open an application for note taking and begin typing the text they want to this note taking app.
If you would like any information on how to develop an iOS responsive app please simply email or call our app development experts on info@3dissue.com or find the contact telephone numbers here.
By Audrey Henry