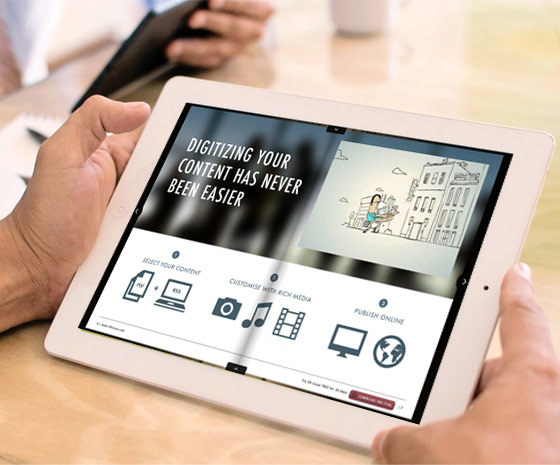 A publisher endeavors to give all their readers the optimal reading experience. The use of an iPad for publication viewing has developed into quite an enduring habit and is now also transitioning to mobile devices rapidly since the increase in screen sizes. So clicking on iPad app icon to launch any publication from your magazine archive is an exciting phenomenon and one you must give your subscribers.
3D Issue digital publishing suite recently released V7.2 of their software. iOS and android apps being an integral part of the software now for many years with many of our publishing clients catering to audiences through the mobile and tablet devices they regularly use. As usual the software is widely accessible across a broad eco-system of devices and can communicate to the senses through a variety of visual, audio and sensory interactive features.
3D Issue has been developing apps for many years, see the progress through each release:
3D Issue V7
With this release in July 2014 you can aggregate your content from your current online sources; blogs, feeds, video, emails, alerts, Tweets, Facebook posts, Instagram and more and publish to apps along with your digital publications, flipbooks, and e-catalogs etc..
3D Issue V6
With 3D Issue version 6 in Dec 2012 users could create digital publications that can be downloaded and stored on their tablet and mobile devices via Apple App and Google Play Android Apps. This enables readers to access content on the go, even without an internet connection.
3D Issue V5
Since the launch of the new iPad app icon feature back in Nov 2011 3D Issue Version 5 introduced several new features allowing for the creation of even better digital publications. This feature was much loved as it enabled 3D Issue users to save app icons to iPad and iPhone home screens. This is a real must have for any HTML5 publication. We blogged about this at the time and created a video too, which demonstrates the process of specifying your iOS icons – iPad and iPhone.
New software releases
The features we add to each new release of the 3D Issue software enable marketers and publishers to make content more involving and engaging; two of the most important factors in any marketing communications.
For questions or queries, please get in touch via info@3dissue.com.
By Audrey Henry