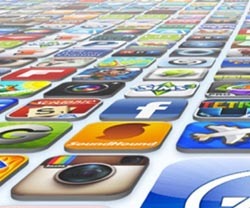 There is no getting away from the fact that smartphones and connected devices have infiltrated most corners of the modern world, they have undoubtedly enhanced our quality of life, some might say a little too much! The fact nevertheless remains that have become an integral part of a large, and ever growing number of people's lives, they are now as a much a part of every-day life as a wallet, handbag or car keys, this is the esteemed standing they now enjoy.
It should also be noted that this is not strictly confined to smartphones or iPhones; we also have iPads and tablets to add to an already eclectic mix of connected devices. One aspect that all these devices have in common is that they need apps to fully utilize their potential. Apps are the single biggest contributor to making your phone 'smart', without them smartphones are well, not so smart; we have access to apps that can tell us the weather for the day ahead, maps to aid us with directions, apps to translate languages, the list is, quite literally, endless.
This ever expanding trend has been fully verified by Apple's recent announcement of $1 billion worth of apps, (yes you did read that correctly!) being sold in December of 2013 alone, this amounted to a record 3 billion apps downloaded from their app store which houses over one million apps for its iPhone, iPad and iTouch devices. This remarkable figure, while undeniably aided by the holiday season bonanza, rounded off an extremely satisfactory year for Apple's app store with the combined sales of apps for the year topping $10 billion.
The App store, which is in its sixth year; has gone from strength since its inception in July 2008, the company celebrated its one billionth download on April 2009, by May 2013 this figure had grown exponentially to 50 billion downloads in total. This was followed by the record figures quoted at the start of this article; Eddy Cue, Apple's senior vice president of Internet software and services had this to say in statement, "We'd like to thank our customers for making 2013 the best year ever for the App Store."
This is further proof, if we needed any, that this is no passing fad. Smartphones, tablets and the plethora of connected devices we enjoy in today's world is big business. Apple's figures concerning their app store alone; allude to this. If Smartphones are the driving force in today's technological world then apps are indisputably the fuel, one needs the other to prosper and flourish.

At this point it is worth noting that the figures quoted above are attributed solely to Apple and you have to take into account all the different operating systems and platforms such as Android, Windows and Symbian to name but a few. Once you gauge that platforms like Android are rapidly gaining ground on Apple in terms of app downloads then you get an idea of the figures involved. In today's online enhanced world it is essential to firstly have, and secondly maintain an online presence in order to fully utilize the opportunities that such unerring connectivity presents us with.
Quite simply, you can't expect to get any cake at the party if you don't have a seat. Businesses, publishers, marketing companies, basically everyone that is in business needs to have a presence among this monolithic entity that we know as the world of apps. Not everyone has the time, want knowledge or inclination to go about creating their own apps which is where 3D Issue comes to the fore, as part of our professional package you will be supplied with your own app to supplement your digital publications. This package encompasses full rich media, interactivity, full statistics and tracking reporting for that all important information, information which could be pivotal in aiding you with crucial decisions related to your venture.
One aspect that is crystal clear here is that apps are here for the long haul, to ensure you give yourself the best chance in today's interconnected world you have to maintain and enhance your presence, you have to utilize any and all avenues available to you, you have to ensure you are on the cutting edge of technology and not remnant in the ever advancing world of online advancements.
Only recently Chevrolet announced that they would be introducing apps to their cars through the cars touchscreen, first mooted in February last year, their plans are coming to fruition, indeed we could be a bout to witness yet another pivot in smart technology.
Download a fully functional trial of 3D Issue or try out our branded apps solution and see how they can enhance your business today.