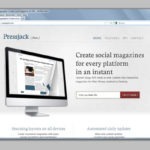 If your reading this blog chances are that you are already familiar with the popular and easy to use '3D Issue Hubs'. As a software solution 3D Issue Hubs provided a neat RSS to digital magazine creation for desktop, mobile and tablet reading.
Today we are delighted to introduce the latest 3D Issue Hubs Beta and to outline some of the key features in the web based provision. If you want to check it out right now see www.3dissue.com, click 'Get Started', and search for your RSS content directly on the page.
But why did you change 3D Issue Hubs? It was great…Hubs has evolved and as a fully web enabled service allowing for publishers to login and add an RSS feed we are facilitating the quicker provision of content from an entirely cloud based service.
Note that 3D Issue Hubs beta on desktop is responsive to the window size of your browser drag the window to view your content displayed in a different layout for the specific window size.
3D Issue Hubs beta also provides these great features:
-View stunning magazine layouts on all devices:  3D Issue Hubs beta can create responsive magazines with liquid layouts for tablets and smartphones and provides a consistent presentation of content for all devices. In this way you can provide the best presentation for your readers regardless the devices they are using.
-Social Network Integration: Take advantage of promoting your publication by sharing through social networks Facebook, Twitter, LinkIn, Reddit and Google+
What do you need to do get started?
All you need to do is visit www.3dissue.com/hubs.html and try the new features following these steps:
-Enter an RSS URL details and click on 'TRY NOW'.
-3D Issue Hubs beta will then provide a view of your publication via your browser and a simulated view of a tablet and Smartphone. At this stage, Hubs will also allow you to add more RSS feed or webpages if you wish.
-Verify that everything looks and feels like a real magazine just by clicking at the right and left arrows for a flip effect or use the thumbnails to go directly to specific articles within your publication. There is also a CONTENT button on every page that allows you to go back to the content page. Your readers will be also presented with tools such as PRINT-LINK-BOOKMARKS-SEARCH-LIBRARY and SHARING OPTIONS (Facebook, Twitter, LinkIn, Reddit and Google+)
-You are now ready to publish your publication! Simply hit BUILD and your publication will be online. You can then click on VIEW to see your digital publication live on-line. You can finally copy and paste the URL and share this with your friends and colleagues.

So why not try our new 3D Issue Hubs beta? It is easy to use and it takes only a few minutes.
For more information or comments, please e-mail us at sales@3dissue.com
Interested in new feature updates? Stay tuned to our Blog or follow us on Facebook or Twitter for updates.
Coming soon….
-Automated daily updates: Save time in updating  your publication; 3D Issue Hubs beta automatically update when the RSS feed, blog or online copy updates (When web content updates so does your social magazine
-Customize your magazine: Make your publication a true brand can be an extension of your company; so make the most with the features provided by 3D Issue Hubs to choose your preferred color, background and page controls.