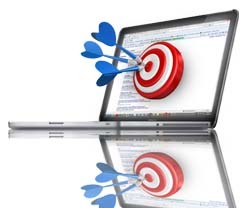 Advertising your brand effectively and choosing the right channels to market it can be one of the trickiest decisions for businesses to make, choosing the right channel is not as easy as it sounds; there are so many options that it can prove daunting especially if you are working within a constrained budget.
In today's blog we will look at some of the ways in which you can boost internet advertising for your brand, hope you enjoy it.
Boosting internet advertising for your brand can be carried out in a number of ways. I have listed a few below, there are many more but if you follow these steps you will be well on your way.
Start with your website
This is ultimately where you want the consumer to arrive so you have to ensure that your website is at its optimum level. Ask yourself, if you were the consumer what is it about your website that would entice you to stay and browse? In the same way ask yourself if there are any factors about your website that may encourage the consumer to swiftly move on, nail these down and change accordingly. First impressions count.
Ensure your website is mobile accessible
With the explosion in smartphone access to the web, mobile accessibility is a must. Over 40% of your web traffic is now mobile, can you afford to lose 40% of your business?
Search engine optimization
No matter how good your site is it will be rendered useless if it has no traffic or no one can find it, this may be a skill that will require outsourcing but it will be worth every penny. A webmaster will assess and enhance the technical workings within your (website page titles, meta-tags, keyword usage, site maps, page rankings etc.) so you appear higher on search rankings, an absolutely crucial aspect to being discovered online.
Consider blogging, regularly.
Blogging is an excellent way to market your business, the consumer is always on the lookout for quality, relevant content, if you can position yourself as a go to source of knowledge you will be doing your business, and your brand, the power of good.
Start using videos to market your business
Videos are big business and look set to dominate the market in the year ahead, advanced technology in smartphones and networks that are faster than ever look set to ensure video is the main medium in the coming year. Studies have shown that consumers react in a positive manner to video and are more likely to engage with your product and service when video is used to promote and show case your product/service.
Consider Google adwords
Google's paid advertising program is an extremely effective method of giving your business a boost by ensuring high rankings in search engines, although possibly costly long term, it is a great way of giving your business a boost while you refine your approach in the meantime.
Use social media
Social media, and the gargantuan numbers it entails, offers many benefits in relation to advertising your business; you can engage with consumers and genuinely listen to what they have to say. It is a platform that enables you to have a voice, a voice that you must keep fresh through regular updates pertaining to content relating to your business and industry as a whole.

Use Content Hubs
What if you could have one centralized location that could carry out the majority of the above tasks? What if you could use this centralized location to funnel all of your existing content from your blogs and rss feeds into responsive content which can be published to any device, updates automatically, included video and multi-media among a plethora of other options?
That's what 3D Issue can do for you and your business, try it out today.