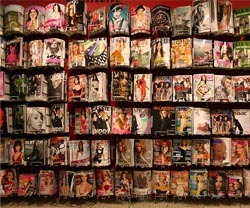 Innovation can take many forms and in digital publishing the possibility to introduce new features can be at your reach through the latest developments; one of the main ones is – interactive flip page software for web, mobile and tablet.
Our blog today analyses the case of the well-known women's magazine Marie Claire providing a fully interactive experience for its readers. According to this article 'The new interactive magazines go beyond advertisers' QR codes that encourage readers to "scan for product demo – The magazine provides readers with new offerings that allows them to engage and be rewarded for it immediately'.
The article also reports that Marie Claire is also introducing a digital technique that makes the magazine more interactive – through the free Netpage App (available in iTunes).
The App will enable readers to:
• See videos and animation related to stories that makes the magazine as interactive as your iPad
• Make purchases directly from the magazine
• Clip any article or image and then save it or share it via email or Facebook or any form of social media
In the words of Mike Hofman, Executive Digital Director at Glamour, readers' engagement can be improved as publishers learn what readers are interested in through quick feedbacks about the magazine's performance.
Finding new ways to connect with your readers through the integration of new digital technologies can be a rewarding investment;

3D Issue software allows you to create editions for a range of platforms including mobile and tablets. Interactive features can certainly ensure an engaging digital experience for your readers. Check out these our blog section for more information on interactive features:
A PDF to Flash e-magazine can be an exciting interactive experience
Make digital publishers smile; know your tools and what you can build
Image thanks to the nice folks here. 
By 3D Issue