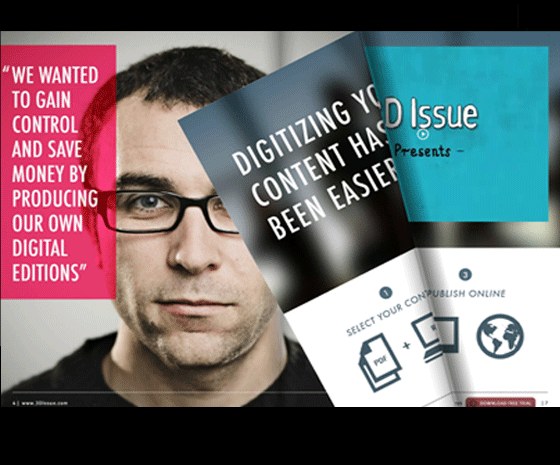 As we move forward in the publishing industry we have seen a trend in which more and more people are going digital with their publications. We hear more words like digital magazine and interactive brochure being used.
In order to retain your customers you must provide them with what they want, keeping updated with the industry will insure you are on top of what your customer wants and needs. In the U.S. digital only audiences for magazine apps grew 84% from 9.2 million to 16.9 million people, this number itself shows the need for companies to embrace the digital era.
Interactive brochures and magazines are the future; an interactive brochure can offer your customers a combination of media types which capture the reader's attention. Many of you may wonder why marketers are going digital and why they have chosen to take this particular route. Many people are going digital in order to attract potential customers and keep existing customers. Going digital has a number of advantages.
Advantages to going digital:
• Cost: Production, print and delivery costs will be dramatically reduced. Going paperless reduces costs need in the creation stage, now magazines can be created through the use of a digital magazine template.
• Digital: With digital magazines, interactive brochures etc. you reach a larger and much broader audience. Anyone has the ability to access your magazine or brochure if it is online, whereas if it is a print copy it may not be sold in certain places.
• Speed: New versions are delivered to customers for purchase quickly. Customers do not have to wait for it to come into the shops or worry about no copies being available. Time wasted during printing time is also slashed; templates can be used in order to create new issues in a quicker time frame.
• Interactive: Added feature of videos, audios, links and animation. These types of media capture reader's attention.
Now that we have established why going digital is the future we will move onto how to begin your journey on creating your very own interactive brochure. Searching online for the solution to creating your own interactive brochure can be overwhelming, too many products and not being sure what you want from it can be stressful.
With 3D Issue Flipbooks you have no worries; converting your lifeless PDF's into exciting, interactive digital editions has never been easier. There are a number of reasons and advantages in choosing 3D Issue Flipbooks, viewable on any device (HTML5 & Flash), archive past issues, offline versions and fully customizable are just a few advantages you get with 3D Issue flipbook. You can find the features for 3D Issue flipbooks here. Why not also check out this previous step by step guide on how to create your digital brochure.
Check out these video tutorials on Flipbooks to gain more in-depth information on the creation aspect, these short video clips can help you on your way to creating your own interactive brochure. From setting up your own profile to adding your own background or adding a shopping cart these short video tutorials provide you with step by step guidance.
Any other questions? Contact us here if you need any further help or information.