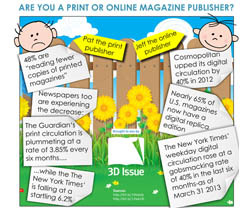 Digital publishing incorporates an array of innovations that are considerably different from the traditional print medium.
This infographic illustrates what life may be like for 2 publishers, we have Pat the print publisher and Jeff the online publisher.
They both face an array of changes in the publishing environment at the minute. The most important advances to date have been made in recent months, with the introduction of apps. People are now adopting tablets and smartphones as their reading devices of choice.
In this infographic we look at some statistics in these sectors.  Online editions are now available for 65% of all U.S. magazines, so it is telling by these statistics that the move to digital is spreading at a rapid rate. Many publications are now digital only – while several are available in a print and also a digital version. Some print versions have stopped completely. It is all about knowing your reading audience and knowing what devices they tend to read on.  How these reading habits have evolved in the last few years has been phenomenal.
This infographic is based on findings from a study by www.mequoda.com a leading authority on digital trends, the statistics also come from results of research carried out by http://paidcontent.org
The key information we highlight in the infographic are statistics on:
•  New York times
•  The Guardian
•  Cosmopolitan Magazine
The findings may give rise to the question – is print dying out completely? If you are a print publisher – it might be time to try digital, see how your readers embrace the editions, and draw conclusions as to how digital publishing may work for you.