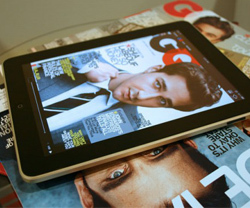 Yesterday we mentioned how similar offline and online marketing strategies are. Today we are going to focus on how your digital marketing efforts can help you increase your print sales.
The Importance Of Print Publications
We always emphasize the evolution of digital media and the internet environment as a whole and refer to it as the most important marketing channel all businesses need to use. However in real life a lot of companies depend on their "brick and mortar" channels to survive.
Besides the fact that many businesses can't ignore the existence of an important part of the market that prefers print publications to digital ones, there are some other reasons why you should keep using print mediums as a way of communicating with your audience.
To begin with, print media is extremely powerful when it comes to the creation of content that converts. But not only that, It's also really good at filtering down your targeted audience.
How to Use Digital To Increase Print Sales?
Although as we've mentioned print is still a widely viable mass communication channel many business struggle to connect it to their digital efforts missing out on a great opportunity to increase their print sales.
1. Offer Freebies
Freebies are probably one of the most powerful marketing strategies for newborn businesses. People like free things and if they are good they tend to share it with their family and friends.
One of your main goals when establishing your company is to build a relationship with your customers so they will come back in the future. Whenever someone buys your magazine or publication, offer them the possibility to access the digital version of it in exchange of their email address.
Once you have that extra information (information that you wouldn't have obtained through the print magazine), send them offers, discounts or even surveys asking them about their opinion on what they want to read or what you should improve. Thanks to this information you will be able to create a magazine that satisfies your readers needs better.
2. Connect the Two Worlds
Increasing your print sales will depend on how satisfied your readers are, the added value your magazine has and on how effectively you promote your online and print publications.
With the power of digital media on your hands and with a smart strategy in place, it shouldn't be difficult for you to increase your number of print and digital subscribers to the magazine.
Add pictures, banners and videos promoting your publication. But don't forget about offering an added value. Offer samples or small products when people acquire the print versions, and include videos and other interactive elements in the digital ones.
Digital has its benefits and so does print. The key is to use both of them to promote the other. Show the benefits of your printed magazine to your online subscribers and vice-versa and make sure that each of your magazines offers a different added value.
Hubs and flipbooks are great tools to increase your print sales. Flipbooks will let you create your own version of your print publication with just a few clicks and Hubs can gather all your publishing efforts in just one place.
You can now try them for free too, and if you have any questions about their usage feel free to contact us at info@3dissue.com