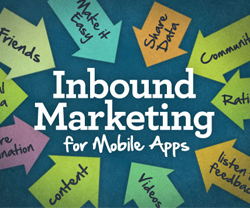 If you haven't heard about inbound marketing until now, you've been missing out on one of the most important and effective types of marketing you can use to promote your business.
Although outbound marketing is still common among marketers for quick lead building, inbound is gaining popularity as the best long term solution to create a strong online brand presence.
Inbound marketing consists of a mix of different strategies that involve content creation and sharing, social media etc. As opposed to outbound, the main goal of inbound marketing is to attract people to your site, your brand and your products instead of pushing them to your targeted market.
With this in mind, I'm sure you've realized how important it is for you to use and have a presence on your audience's favorite communication channels to be able to reach them.
Mobile already plays a huge part on the current digital marketing game and its influence keeps growing.
With younger generations glued to their phones 24/7 combining inbound marketing and mobile platforms it's a no brainer, so let's see how you can do inbound marketing with an app.
The App Build
It doesn't matter if you tried to create an app before without much success or if you are just thinking about creating your first one but don't really understand how you could integrate it into your marketing plan, you'll find this information useful.
First of all, your app needs to do 2 things at the same time. It needs to connected the app to your business and it needs to provide an added value to the users.
Don't use your app just to directly promote your products, that would add little value to your potential customers. Give your audience a reason to download your app and use it daily. You could publish information about your industry, or share news that would interest your customers and that are somehow related to your company and products.
Let's say for example that you sell cars. You could create a monthly magazine with interviews and news about the car industry and make it available through your app. You could also research the web or write about fun facts or latest developments about your brand and the brands that you sell, and publish them on your app so your audience can access them all from their phones. Send notifications to the users about new events coming etc.
You won't be directly promoting your products, but you'll be little by little creating a long-lasting relationship with your audience.
Once your followers are engaged, it will be easier for you to start the promotional activities that will convert your app users into buyers.
The App & Inbound Connection
Having an app that provides an added value and offers and excellent user experience is something that you can already consider as an inbound strategy. However, nothing is as easy as it looks and the smallest mistake can cost you.
Having an added value is great, we've said that several times before, but failing to transfer that added value to your products can make the whole strategy useless, or at least not as effective as it could be.
If you're running a blog where you share free daily tips, that your audience can't find anywhere else, about how to be successful in your industry, take advantage of the situation and start a conversation with them. Show them how what you have to offer solves a problem they have.
The combination of mobile apps with inbound marketing it's a powerful strategy. Not only will you be increasing your visibility, but you will also be learning more about your audience and their needs with almost no effort.
If you are ready to explore the interesting world of inbound marketing through an app, check out our platform and let us now if you have any questions by sending us an email to info@3dissue.com