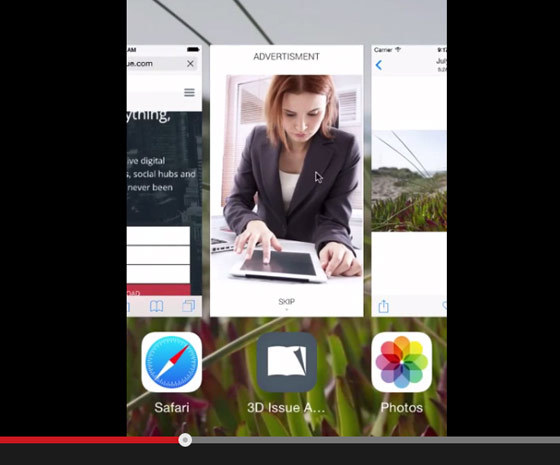 Your app customers are accustomed to in-app advertising and for the most part not opposed looking at ads. Many believe that the rise of apps especially among mobile users have ushered in a new era of more engaging advertising.
• App creation with 3D Issue allows you to insert advertisements within your app's content.
• Advertising within your apps is a good way to increase revenue: There are constantly new trends emerging in mobile advertising and advertisers are not shy to try to appeal to this always connected audience.
• Link to the sites: Your adverts can be clickable and lead directly to the advertisers web page of choice. It could be their homepage, buy now page or whatever happens to be the most relevant to the advert's message.
• Charge the advertising company for the number of visits they get: You can decide the best way for you to charge for the adverts that appear in your app. They could pay-per-click, per impression or for you could just charge a flat rate for the ad to appear.
• You know which ads are performing better: Report back to the advertiser which ads are performing best. By studying all the adverts you will become an expert on which ads to place in which sections of the app and what content matches the promotional material best.
• Ads can be integrated to the app design and be suited to the content's layout enabling it to flow naturally, almost the same way that native advertising works in publications.
• Navigation within your app: An app user can click on a particular advert, this then leads to the website the ad is linked to and easily navigate back to the app by clicking back when they are ready.
• Create bespoke display ads to suit your clientele: You or your graphic designer can easily create adverts that are images with a single CTA or text that you want to communicate a special offer or promotion.
• Video in-app ads: Create your image ad and link to a video. Design the advert with a play button in the display ad's creation, once clicked by the mobile app user the ad will play the video it is linked to.
For any extra information you may require on in-app advertising within your 3D Issue app please do not hesitate to email info@3dissue.com.
By Audrey Henry